Renault "Goes 7ommercial"
27th September 1946
Page 28
Page 29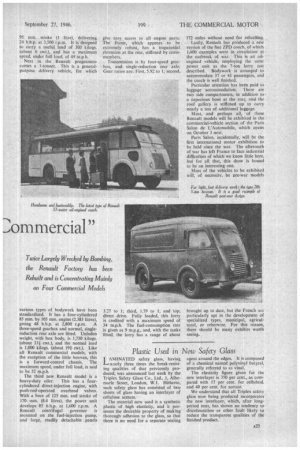 Page 28, 27th September 1946 —
Renault "Goes 7ommercial"
Close
Twice Largely Wrecked by Bombing, the Renault Factory has been Rebuilt and is Concentrating Mainly on Four Commercial Models
By Our Continental Representative THE great Renault factory at Billancourt, just outside Paris, twice largely destroyed by R.A.F. bombing, has been completely rebuilt since the liberation of France. Rapid reconstruction was aided by the fact that, although damage caused by the R.A.F. had been extremely heavy, the great Renault electric power station was never hit, and powerfor repair work remained available..
Up to 2939, although the commercialvehicle section of Renault's was extremely important, the company's largest output consistedofprivate cars. Automobiles Renault headed the " big three "—Renault, Citroen and Peugeot—which produced between them some 80 per cent. of all French
cars on the market. Since the war, however, the demands of commerce and industry have been so great that, for the time oeing, the Renault private-car programme includes only two infidels. Formerly a private company, the Renault concern was nationalized some time ago. More than 35,000 hands are employed in the works and, despite present difficulties in the way of coal shortage and lack,of raw materials, an important series of commercial vehicles is already coming off the assembly lines.
Models range from small delivery vehicles to 7-ton oilers. The delivery van incorporates 'a commercial version of the well-known Juvaquatre chassis, popular in 1938-39 as a private car. This little vehicle, which has a smart appearance, is powered by a fourcylindered engine of 58 mm. bore and
95 mm. stroke (1 litre), delivering 24 b.h.p. at 3,500 r.p.m. It isedesigned to carry a useful load of 300 kilogs. (about 6 cwt.), and has a maximum speed, under full load, of 49 m.p.h.
Next in the Renault programme comes a 1-tonner. This is a generalpurpose delivery vehicle, for which various types of bodywork have been standardized. It has a four-cylindered 85 ram. by 105 mm. engine (2.383 litres), giving 48 b.h.p. at 2,800 r.p.m. A three-speed gearbox and normal, singlereduction rear axle are fitted. Unladen weight, with box body, is 1,730 kilogs. (about 33i cwt.), and the normal load is 1,000 kilogs. (about 191 cwt.). Like all Renault commercial models, with the exception of the little boat/an, this is a forward-control chassis. The maximum speed, under full load, is said to be 52 m.p.h.
The third new Renault model is a
heavy-duty oiler. This has a fourcylindered direct-injection engine, with push-rod-operated overhead valves. With a bore of 125 mm. and stroke of 170 mm. (8.4 litres), the power unit develops 85 b.h.p. at 1,600 r.p.m. A Renault centrifugal governor is mounted on the fuel-injection pump, and large, readily detachable panels
give easy access to all engone parts. The frame, which appears to be extremely robust, has a trapezoidal extension at the rear, stiffeoed by crossmembers.
Transmission is by four-speed gearbox, and single-reduction rear axle. Gear ratios are: First, 5.92 to 1; second, 3.27 to I; third, 1.79 to I; and top, direct drive. Fully loaded, this lorry is credited with a maximum speed of 34 m.p.h. The fuel-consumption rate is given as 9 m.p.g., and, with the tanks fitted, the lorry has a range of about 372 miles without need for refuelling.
Lastly, Renault has produced a new version of the fine ZPD coach, of which 1,400 examples were in circulation at the outbreak of war. This is an oilengined vehicle, employing the same power unit as the 7-ton lorry lust described. Bodywork is arranged to accommodate 37 or 43 passengers, and the coach is well finished.
Particular attention has been paid to luggage accommodation. There are two side compartments, in addition to a capacious boot at the rear, anf the roof gallery is stiffened up to carry nearly a ton of additional luggage.
Most, and perhaps all, of these Renault models will be exhibited in the commercial-vehicle section of the Paris Salon de L'Autornobile, which opens on October 3 next.
Paris Salon, incidentally, will be the first international motor exhibition to be held since the war. The aftermath of war has left France to face industrial difficulties of which we know little here, but for all that, this show is bound to be an interesting one.
Most of the vehicles to be exhibited will, of necessity, be pre-war models
brought up to date, but the French arc particularly apt in the development of specialized types, municipal, agricultural, or otherwise. For this reason, there should be many exhibits worth seeing.,