Shopping Service Proposed : Licence Refused
27th September 1946
Page 27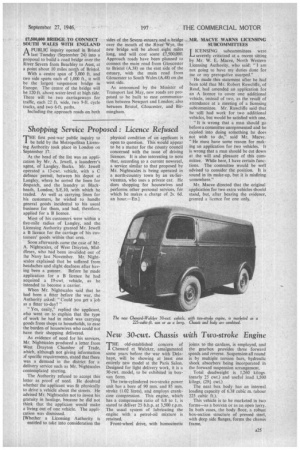 Page 27, 27th September 1946 —
Shopping Service Proposed : Licence Refused
Close
THE first post-war public inquiry to be held by the Metropolitan Licensing Authority took place in London on September 17.
At the head of the list was an application by Mr. A. Jewell, a launderer's agent, of Langley, Bucks. Mr. Jewell operated a 13-cwt. vehicle, with a C defence permit, between his depot at Langley, where he sorted the linen for despatch, and the laundry at Blackheath, London, S.E.I0, with which he traded. As well as carrying linen for his customers, he wished to handle general goods incidental to his usual business for them, and had, therefore, applied for a B licence.
Most of his customers were within a five-mile radius of Langley, and the Licensing Authority granted Mr. Jewell a B licence for the carriage of his customers' goods within that area.
Soon afterwards came the case of Mr. A. Nightscales, of West Drayton, Middlesex, who had been invalided out of he Navy last November. Mr. Nightscales explained that he suffered from headaches and slight deafness after having been a gunner. Before he made application for a B licence he had acquired a 19-cwt. vehicle, as he intended to become a carrier.
When Mr. Nightscales said that he had been a fitter before the war, the Authority asked: "Could you get a job as a fitter to-day?"
" Yes, easily," replied the applicant, who went on to explain that the type of work he had in mind was carrying goods from shops to households, to ease the burden of housewives who could not have their shopping delivered.
As evidence of need for his services, Mr. Nightscales produced a letter from West Drayton Chamber of Trade, which, although not giving information af specific requirements, stated that there was a demand in the district for a delivery service such as Mr. Nightscales contemplated starting.
The Authority refused to accept this letter as proof of need. He doubted whether the applicant was fit physically to drive a vehicle about the streets. He advised Mr. Nightscales not to invest his gratuity in haulage, because he did not think that the applicant would make a living out of one vehicle. The application was dismissed.
[Whether a Licensing Authority is entitled to take into consideration the physical condition of an applicant is open to question. This would appear to be a matter for the county council concerned with the issue of driving licences. It is also interesting to note that, according to a current newsreel, a service similar to that proposed by Mr. Nightscales is being operated in a north-country town by an ex-Serviceman, who uses a private car. He does shopping for housewives and performs other personal services, for which he makes a charge of 2s. 6d. an hour.—ED.]