New 30-cwt. Chassis with Two-stroke Engine
27th September 1946
Page 27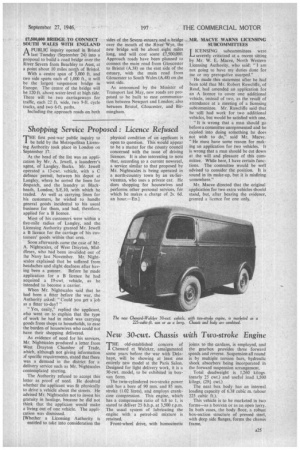 Page 27, 27th September 1946 —
New 30-cwt. Chassis with Two-stroke Engine
Close
THE old-established concern of Chenard et Walcker, amalgamated some years before the war with Delahaye, will be showing at least one entirely new model at the Paris Salon. Designed for light delivery work, it is a 30-cwt. model, to be exhibited in boxvan form.
The twin-cylindered two-stroke power unit has a bore of 90 mm. and 85 mm. stroke (1.02 litres), and employs crankcase compression. This engine, which has a compression ratio of 6.8 to 1, is stated to deliver 25 b.h.p. at 3,500 r.p.m. The usual system of lubricating the engine with a petrol-oil mixture is retained.
Front-wheel drive, with homocinetic joints to the cardans, is employed, and the gearbox provides three forward speeds and reverse. Suspension all round is by multiple torsion bars, hydraulic shock absorbers being incorporated in the forward suspension arrangement.
Total deadweight is 1,260 kilogs (nearly 25 cwt.) and useful load 1,500 kilogs. (291 cwt.) The neat box body has an internal loading capacity of 6.38 cubic m. (about 225 cubic ft.).
This vehicle is to be marketed in two forms—as a boxvan or as an open lorry. In both cases, the body floor, a robust box-section structure of pressed steel, with deep side flanges, forms the chassis frame.