News of the Week
27th September 1946
Page 24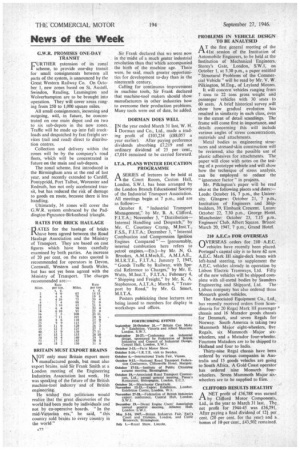 Page 24, 27th September 1946 —
News of the Week
Close
Keywords :
G.W.R. PROMISES ONE-DAY TRANSIT
FURTHER extension of its zonal I scheme, to provide one-day transit for small consignments between all parts of the system, is announced by the Great Western Railway Co. On October 1, new zones based on St. Austell, Swindon, Reading, Leamington and Wolverhampton are to be brought into operation. They will cover areas ranging from 250 to 1,000 square miles.
All small consignments, incoming and outgoing, will, in future, be concentrated on one main depot and on two to six sub-depots in the new zones. Traffic will be made up into full truckloads and despatched by fast freight services (rail and road) direct to distribution centres.
Collection and delivery within the zones will be by the company's road fleets, -which will be concentrated in future on the main and sub-depots.
The zonal scheme, first introduced in the Birmingham area at the end of last year. and recently extended to Cardiff, Pontypridd, Port Talbot, Worcester and Redruth, has not only accelerated transit, but has reduced the risk of damage to goods en route, because there is less handling.
Ultimately, 34 zones will cover the G.W.R. system embraced by the Paddington-Pinzance-Birkenhead triangle.
RATESFOR BRICK HAULAGE
RATES for the haulage of bricks have been agreed between the Road Haulage Association and the Ministry of Transport. They are based on cost figures which have been carefully examined by both parties. An increase of 20 per cent. on the rates quoted is recommended for operators in Devon, Cornwall, Western and South Wales, but has not yet been agreed with the Ministry of Transport. The charges recommended are:—
BRITAIN MUST EXPORT BRAINS
NOT only must Britain export more manufactured goods, but must also export brains, said Sir Frank Smith at a London meeting of the Engineering Industries Association last week. He was speaking of the future of the British machine-tool industry and of British engineering:
He Wished that politicians would realize that the great discoveries of the world had been ,made by individuals and not by co-operative boards. "in the mid-Victorian era," he said, "this country sold brains to every country in the world" Sir Frank declared that we were now in the midst of a much grater industrial revolution than that which accompanied the birth of the machine age. There were, he said, much greater opportunities for development to-day than in the nineteenth century.
Calling for continuous improvement in machine tools, Sir Frank declared that machine-tool makers should show manufacturers in other industries how to overcome their production problems. Many tools were out of date, he added.
DORMAN DOES WELL TN the year ended March 31 last, W. H. I Dorman and Co., Ltd., made a trading profit of £103,234 (£88,057 a year earlier). After paying preference dividends absorbing £7,219 and an ordinary dividend of 25 per cent., £7,014 remained to be carried forward.
LT.A. PLANS WINTER EDUCATION PROGRAMME .
ASERIES of lectures to be held at the Court Room, Caxton Hall, London, S.W.!, has been arranged by the London Branch Educational Society of the Industrial Transport Association. All meetings begin at 7 p.m., and are as follow:—
October 8, "Industrial Transport Management," by Mr. B. A. Clifford, F.I.T.A.; November 5, "Distribution— Internal Handling and Despatch." by Mr. C. Courtney Cramp, Minst.T., F.S.S., F.I.T.A.; December 3, " Internal Combustion and Compression Ignition Engines Compared" — (presumably, internal combustion here refers to petrol engines.—Eo.)—by Mr. N. G. Brookes, A.M.I.Mech.E., A.M.I.A.E., M.I.R.T.E., F.I.T.A.; January 7, 1947, "Goods Traffic by Railway, with Special Reference to Charges," by Mr. E. Watts, M.Inst.T., F.I.T.A.; February 4, "Shipping and Freight," by Mr. K. A. Stephenson, A.1.T.A.; March 4, "Transport by Road," by Mr. G. Smart, M.I.T.A.
Posters publicizing these lectures are being issued to members for display in workshops and offices.
PROBLEMS IN VEHICLE DESIGNTO BE ANALYSED AT the first general meeting of the 41st session of the Institution of Automobile Engineers, to be held at the Institution of Mechanical Engineers, Storey's Gate, London, S.W.1, on October 1, at 5.30 p.m., a paper entitled "Structural Problems of the Commercial Vehicle" will be read by Mr. V. W. Pilkington, M.Eng., of Leyland Motors.
It will concern vehicles ranging from 7 tons to 22 tons gross weight and passenger vehicles with 30 seats to 60 seats. A brief historical survey will show how gradual evolution has resulted in similarity in each class, even to the extent of detail scantlings. The frame will come first in importance, and details concerning this will include various angles of stress concentrations, materials and attachments.
Metal bodies as engineering structures and stressed-skin construction will be reviewed, also the possible use of plastic adhesives for attachments. The, paper will close with notes on the testing of a prototype vehicle and will show how the technique of stress analysis, can be employed to reduce the "ignorance factor" in projects.
Mr. Pilkington's paper will be read also at the following places and dates:— Leeds: October 16, 7 p.m., the University. Glasgow: October 21, 7 p.m., Institution of Engineers and Shipbuilders, 39, Elmbank Crescent. Luton: October 22, 7.30 p.m., George Hotel. Manchester: October 23, 7.15 p.m., Engineers' Club. Albert Square. Bristol: March 20, 1947, 7 p.m., Grand Hotel'.
210 A.E.Cs FOR OVERSEAS nVERSEAS orders for 210 A.E.C.
vehicles have recently been placed. Portugal's capital city is to have 62 new. A.E.C. Mark 111 single-deck buses with left-hand steering, to supplement the A.E.C. vehicles already in operation by Lisbon Electric Tramways, Ltd. Fifty of the new vehicles will be shipped cornplete with all-metal bodies by Saunders
Engineering and Shipyard, Ltd. TheLisbon company has also ordered three Monarch goods vehicles.
The Associated Equipment Co., Ltd., has recently received orders from Scandinavia for 20 Regal Mark 1II passenger chassis and 16 Matador goods chassis for Denmark, and seven Regals for Norway. South America is taking two Mammoth Major eight-wheelers, five Regals, six Mammoth Major sixwheelers, and a Matador four-wheeler. Fourteen Matadors are to be shipped to Holland and four to India.
Thirty-nine Regal chassis have been ordered by various companies in Australia and 15 goods vehicles are going to South Africa. A Gold Coast operator has ordered nine Monarch fourwheelers. Seven Mammoth Major sixwheelers are to be supplied to Eire.
CLIFFORD RESULTS HEALTHY
ANET profit of £36,788 was earned by Clifford Motor Components, Ltd., in the year to March 31 last.. The, net profit for 1944-45 was £36,791. After paying a final dividend of 12i per cent. (20 per cent. for the year) and a., bonus of 10 per cent., £43,502 remained.
Tags
Locations
:
Port Talbot
,
Manchester
,
Worcester
,
Pontypridd
,
Swindon
,
Cardiff
,
Leeds
,
Glasgow
,
Redruth
,
Reading
,
St. Austell
,
London
,
Leamington
,
Birmingham
,
Wolverhampton
,
Bristol