Haulage boss linked to John Pettigrew has licence revoked
27th October 2011
Page 9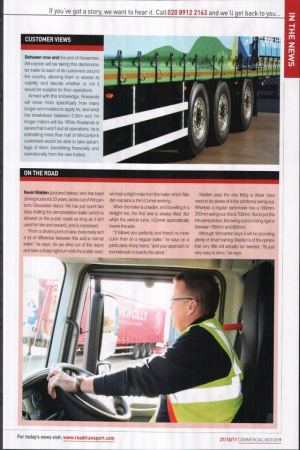 Page 9, 27th October 2011 —
Haulage boss linked to John Pettigrew has licence revoked
Close
By Roger Brown
KILSYTH-BASED haulage boss John McCrory has had his O-licence revoked after becoming involved in a front business with links to disqualiied "lagging out" operator John Pettigrew.
In a written decision following an August public inquiry in Edinburgh, Scottish Trafic Commissioner Joan Aitken also disqualiied McCrory for a two-year period. McCrory – who has held a standard international goods vehicle O-licence since October 1993 – had agreed to work as transport manager for Coatbridge-based Gall Transport.
However, VOSA trafic examiners discovered that Gall Transport – whose sole director was Donald Gallagher – was being set up as a front venture for Pettigrew and Gallagher's father, Donald senior.
Pettigrew, trading as John Pettigrew Haulage, had been disqualiied for four years in August 2009 after it was discovered he had used a community authorisation in the name of Dutch business Euresco BV to work on Norfolkline contracts between July 2006 and January 2008 (CM 1 September).
McCrory had also provided his O-licence to Pettigrew and Gallagher senior so Pettigrew could continue carrying out contract work for Norfolkline, while the Gall Transport application was pending.
Aitken, who refused Gall Transport's application for an international O-licence for four vehicles and four trailers, said: "It was a clever attempt to get round operator licensing, and may have succeeded but for the diligence of VOSA examiners and staff within my ofice.
"I can't ind that there is any repute in the application by Gall Transport. McCrory was at the heart of an arrangement whereby a revoked and disqualiied operator was able to continue to do haulage work for Norfolkline without an operator licence." • See next week's CM for more details on this case.
FOR THE LATEST NEWS VISIT:
www.roadtransport.com