ON THE ROAD
27th October 2011
Page 8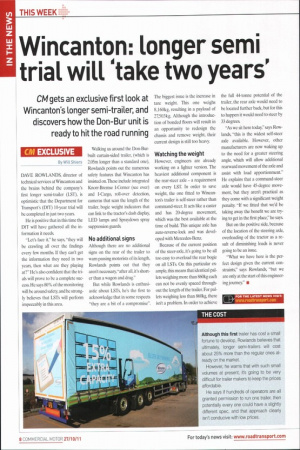 Page 8, 27th October 2011 —
ON THE ROAD
Close
Kevin Walden (pictured below), who has been driving trucks for 23 years, works out of Wincanton's Gloucester depot. He has just spent two days trialling the demonstration trailer (which is allowed on the public roads as long as it isn't used for hire and reward), and is impressed.
"From a driver's point of view, there really isn't a lot of difference between this and a normal trailer," he says. As we drive out of the depot and take a sharp right turn onto the public road, we hear a slight noise from the trailer, which Walden explains is the I-Corner working.
When the trailer is unladen, and travelling in a straight line, the first axle is always lifted. But when the vehicle turns, I-Corner automatically lowers the axle.
"It follows you perfectly and there's no more cut-in than on a regular trailer," he says on a particularly sharp bend, "and your approach to roundabouts is exactly the same." Walden says the one thing a driver does need to be aware of is the additional swing-out. Whereas a regular semi-trailer has a 180mm200mm swing-out, this is 700mm. But to put this into perspective, the swing-out on a long rigid is between 780mm and 800mm.
Although Wincanton says it will be providing plenty of driver training, Walden is of the opinion that very little will actually be needed. "It's just very easy to drive," he says.