MEP: UK not doing all it can to claim back fines
27th October 2011
Page 5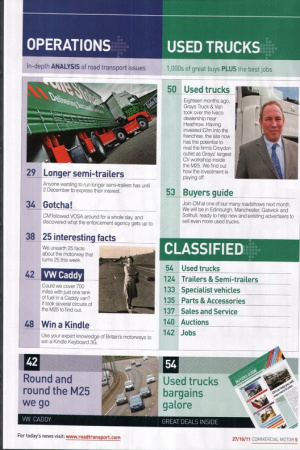 Page 5, 27th October 2011 —
MEP: UK not doing all it can to claim back fines
Close
By Christopher Walton THE UK is not using the full force of EU law to collect ines from foreign drivers for breaches of the London Low Emission Zone (LEZ), according to an MEP.
Brian Simpson, chairman of the European Parliament's Transport Committee, tells CM in the wake of its indings that foreign-registered HGVs owe Transport for London (TfL) £6.2m in unpaid ines (CM 13 October) and that fault lies with the government for opting out of EU law.
"The EU recently put in place the Cross Border Enforcement Directive, which allows for the chasing up of road trafic offences committed in a member state other than the one in which the vehicle is registered, thereby tackling a gap in the enforcement of penalties." But the UK was the only member state to choose to opt-out of the scheme because of cost concerns.
"If TfL is serious about wanting to recover unpaid ines, which it currently recognises as a problem, the government would need to be more supportive of EU action to tackle foreign drivers getting away with unpaid ines." Peter Harding, owner of Peter Harding Freight International, says if TfL can't use all the laws available to collect ines from foreign hauliers, it creates "an unlevel playing ield for UK operators" .
"If they don't have all the laws available to them they shouldn't have introduced [the LEZ]," he says. "With the Olympics coming up, this is going to be a free-for-all."
Meanwhile, Simpson reveals that MEPs are looking to introduce better EU-wide co-ordination for LEZs, which often run to different emission standards. ■
FOR THE LATEST NEWS VISIT:
WWW.roaftraMPort.Com