THAT'S A BIT AWKWARD...
27th October 2011
Page 29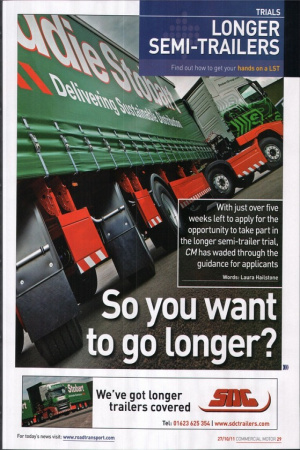 Page 29, 27th October 2011 —
THAT'S A BIT AWKWARD...
Close
Drivers often do strange things when confronted with one of VOSA's marked cars. While European visitors are a reliable bunch and dutifully follow the stopping vehicle into the weigh station site – only occasionally getting lost at the roundabout just off the junction – some Brits panic and bring their vehicles to a halt on the hard shoulder at the first hint of flashing lights – illegal in itself – before twigging that the stopping vehicle, is in fact going to keep going.
Back at site, vehicle examiners are often supplied with worrying information from the drivers of the vehicles they're inspecting. The phrase "if you're looking for a magnet, they don't work on this one", is just one example of when you should really keep your mouth shut.
Long-distance driving, as we know, is a tiring, often hot business, so drivers stepping out of the cab in shorts and flip-flops are more common than perhaps you'd expect. Clogs, CM is informed, are also a popular footwear choice and not simply for those from the Netherlands.
Without a doubt, though, the most eye-raising insight is the minor revelation delivered by a straight-faced Hesmondhalgh that he and his team encounter a notable amount of cross-dressers from the Continent. As good as the make-up is, it's the bearded face on their ID card that gives them away.