So you want to go longer?
27th October 2011
Page 23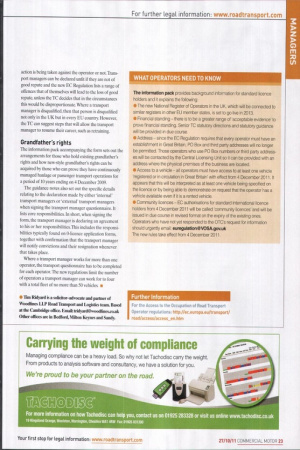 Page 24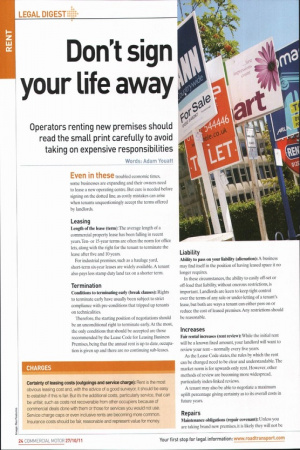 Page 25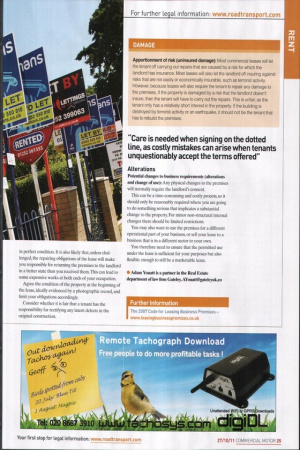 Page 26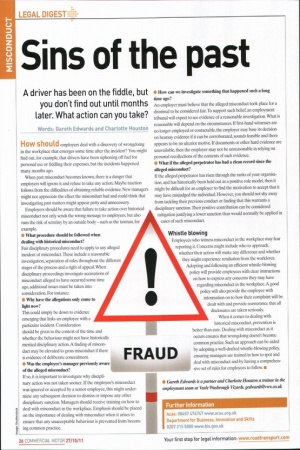 Page 23, 27th October 2011 —
So you want to go longer?
Close
Keywords :
Land Transport
,
Trucks
,
Transport
,
Road Transport
,
Articulated Vehicles
,
Semi-trailer Truck
,
Semi-trailer
,
Trailer
,
Recreational Vehicle
,
Axle
,
Denby Eco-link
,
Longer Heavier Vehicle
,
Business / Finance
With just over five weeks left to apply for the opportunity to take part in the longer semi-trailer trial, CM has waded through the guidance for applicants
Words: Laura Hailstone
For those considering running longer semi-trailers (LSTs), the irst step in the journey is the Department for Transport's (DfT) expressions of interest process.
Under the government's 10-year trial of LSTs, there will be just 900 of the two types of extended length trailers allowed on Britain's roads. It is anticipated that the DfT will be over-subscribed with bids to run LSTs, but it has stated that it will ensure a fair distribution of the available allocation to prevent any one operator gaining an undue competitive advantage. Trailers taking part in the trial will operate under Vehicle Special Orders (VSOs).
Application process
The initial call for Expressions of Interest closes on 2 December. The trial is open to own-account operators and hire and reward, as well as leasing companies. However, in their application leasing irms must identify the operator to whom the semi-trailers will be leased for the trial period.
Worth noting is that expressions of interest need not be for immediate introduction, so companies wishing to introduce LSTs into their operations at a future date should still apply now. To download the application forms, go to www.dft.gov.uk/publications/longer-semi-trailers The information required in the application is not onerous and includes: For leet operators: • number of semi-trailers in current leet; • number of trailers for which VSO sought. For leasing companies: • number of VSOs required; • number of trailers currently leased to each operator; • identiication of operators to whom trailers will be supplied. For all applicants: • dimensions of trailers sought (e.g. single-deck 14.6m; high cube 15.65m; double-deck 15m); • purpose for which trailers will be used (e.g. trunking operations, general haulage, etc); • timeframe over which the trailers are expected to be brought into operation; • indication of whether applicant would be interested in trialling active steering technology.
Operators will be advised in early January of the outcome of their application. However, the DfT says it will not allocate the full quota of 1,800 LSTs at this stage as it anticipates holding a further call for Expressions of Interest at a later date.
Next steps
Successful applicants will be asked to sign an 'operator's undertaking' – an agreement with the DfT covering four key points: to ensure LSTs are presented to VOSA for annual test; to provide quarterly data to the independent body reviewing the trials; to clearly label any information it considers to be commercially conidential so the DfT can take this into account if a request for disclosure is received under the Freedom of Information Act; and to immediately inform the secretary of state for transport if an LST is involved in a fatal or serious accident. Once the undertaking has been accepted by the DfT, the operator can apply to the Vehicle Certiication Agency for a VSO.
The trial
The trial will run for up to 10 years, but it is widely anticipated that it will not last this long. However, the government will not compensate participants if the trial closes within 10 years. The purpose of the trial is to gain operational evidence on the safety, manoeuvrability, economy and other characteristics of semitrailers that exceed the current permitted length of 13.6m by up to 2.05m. Among other things, the trial aims to identify additional costs and beneits not addressed in the impact assessment, including effects on infrastructure. It will also identify any technical and legislative development necessary to ensure advanced active-steer axle technology can be fully assessed and deployed on new trailers.
The draft technical speciication attached to the consultation document proposed two levels of technical compliance: Level 1, which would require vehicles to match the performance of existing articulated lorries (which it is anticipated will need active-steer technology on the rear axles of the semi-trailer); or Level 2, which would require vehicles to match the standards (apart from length) applicable to existing articulated lorries.
Evaluating
The trial will be monitored and evaluated for the DfT by an independent contractor (due to be appointed in November). Operators will be required to provide a range of data every four months to establish the performance and eficiency of the trailers. In addition, the trial will look at: any information related to overloading of axles; the nature and impact of any incidents or near-misses involving the trailers; the effectiveness of any additional vision/sensor/safety systems itted to improve detection of vulnerable road users; and any particular training needs identiied in the course of operation
Conditions
In the light of evidence collected over the course of the trial, particularly with regard to safety impacts, the DfT may withdraw certain semi-trailer types from the trial. For example, certain combinations of semi-trailer length and axle coniguration.
Failure by the operator to respect the conditions in the undertaking may result in the revocation of their VSO. ■