The name of the game
27th October 2011
Page 2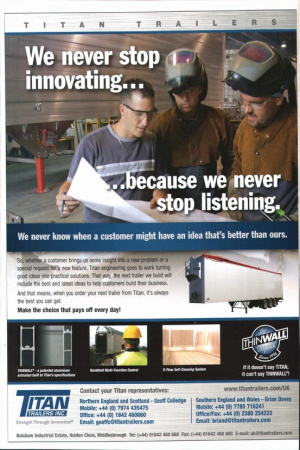 Page 2, 27th October 2011 —
The name of the game
Close
It would appear that the Department for Transport has made a U-turn on longer semi-trailers – thankfully it's still allowing the industry to trial them, but it's changed their name.
All the way through the consultation period it referred to them as "longer semi-trailers", yet suddenly they have become "high-volume trailers". Although this might not
sound particularly significant, I applaud the decision. For this to work we need the public on our side, and words like "longer" don't help our cause. If only the same knowledge applied to LHVs.Nothing gets a Daily Mail reader more excitable than the thought of a longer, heavier juggernaut thundering through their tranquil village. Perhaps "environmental vehicles" would have been a better phrase? I'm hoping that the longer trailers on trial won't all be plastered with the "look at me, I'm a longer trailer" type of liveries that these early demonstrators are wearing (see page 8). I understand that these vehicles represent a huge investment for the industry, but I'm nervous that these liveries send out the wrong type of message. Do they really need to know if they are following one of Europe's longest trailers?
It's interesting to see Labour's reaction to the trial. Maria Eagle MP, shadow transport secretary, says: "Communities will be appalled that ministers have given the green light to longer HGVs coming through their towns and villages." Well correct me if I'm wrong, but didn't the last government play a key role in the introduction of these trailers by shining a very bright amber light in the first place? Politicians changing their minds – whatever next!
Will Shiers