Get ready for change
27th October 2011
Page 17
Page 18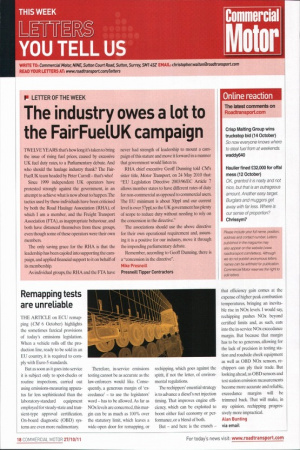 Page 17, 27th October 2011 —
Get ready for change
Close
Transport managers who lose their repute will be banned across Europe. This is just one of the new rules in place from December
Words: Tim Ridyard In just over a month's time, new rules policing the management of O-licences come into force. The Access to the Occupation of Road Transport Operator regulations (EC regulation 1071/2009) will bring signiicant changes to the way that the industry operates.
By now, operators should have responded to a letter from the Central Licensing Ofice in Leeds. If not, it is vital that this letter is read and acted on. The letter explains the changes affecting Standard Goods and Passenger licences with effect from 4 December 2011 (EC Regulation 1071/2009).
Also enclosed is a transport manager questionnaire, which the Central Licensing Ofice requires to be completed by both the transport manager and the operator and returned to EU Regulations, PO Box 178, Leeds LS9 1BS. This is not without a certain irony in that after 4 December the new regulations forbid operators from using PO Box addresses as their contact details.
Missed deadline
Inevitably, not all operators will have made the required response deadline of 17 October. But be of good cheer – the Ofice of the Trafic Commissioner (OTC) has set up an email address for people who can't respond in time (euregulation@VOSA.gov.uk).
"We have asked operators to provide the minimum of information required under EU law and it's information that the majority of operators and transport managers will have to hand," says deputy senior TC Beverley Bell. "If operators contact the TC's ofice and explain that they need more time to provide copies of documentation then, where practicable, TCs will try to accommodate this. However, a failure to respond at all would put the operator in contravention of European law and could lead to questions around their repute and ultimately their itness to operate." In short, forget to ill in this form and you could lose your licence.
Details needed
A transport manager questionnaire requires personal details and details of any licence the transport manager is nominated on. The transport manager has to explain whether he or she is an 'internal' (employed by the company) or 'external' transport manager (operates across a number of licences) as well as conirming what type of CPC or CPC exemption is currently held.
Both the transport manager and the operator must sign the declarations. It is very important that anyone signing the forms understands the declaration. Under the changes in force from 4 December, TCs will be able to take direct action against transport managers, whether disciplinary action is being taken against the operator or not. Transport managers can be declared unit if they are not of good repute and the new EC Regulation lists a range of offences that of themselves will lead to the loss of good repute, unless the TC decides that in the circumstances this would be disproportionate. Where a transport manager is disqualiied, then that person is disqualiied not only in the UK but in every EU country. However, the TC can suggest steps that will allow the transport manager to resume their career, such as retraining.
Grandfather's rights
The information pack accompanying the form sets out the arrangements for those who hold existing grandfather's rights and how new-style grandfather's rights can be acquired by those who can prove they have continuously managed haulage or passenger transport operations for a period of 10 years ending on 4 December 2009.
The guidance notes also set out the speciic details relating to the declaration made by either 'internal' transport managers or 'external' transport managers when signing the transport manager questionnaire. It lists core responsibilities. In short, when signing the form, the transport manager is declaring an agreement to his or her responsibilities. This includes the responsibilities typically found on 0-licence application forms, together with conirmation that the transport manager will notify convictions and their resignation whenever that takes place.
Where a transport manager works for more than one operator, the transport questionnaire has to be completed for each operator. The new regulations limit the number of operators a transport manager can work for to four with a total leet of no more than 50 vehicles. ■