The industry owes a lot to the FairFuelUK campaign
27th October 2011
Page 14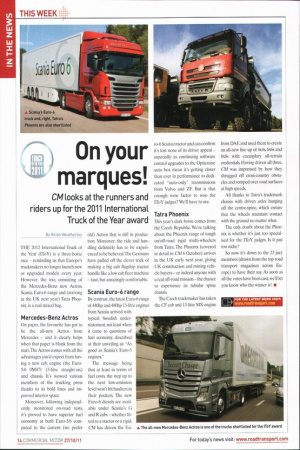 Page 14, 27th October 2011 —
The industry owes a lot to the FairFuelUK campaign
Close
TWELVE YEARS: that's how long it's taken to bring the issue of rising fuel prices, caused by excessive UK fuel duty rates, to a Parliamentary debate. And who should the haulage industry thank? The FairFuelUK team headed by Peter Carroll – that's who!
Since 1999 independent UK operators have protested strongly against the government, in an attempt to achieve what is now about to happen. The tactics used by these individuals have been criticised by both the Road Haulage Association (RHA), of which I am a member, and the Freight Transport Association (FTA), as inappropriate behaviour, and both have distanced themselves from these groups, even though some of these operators were their own members.
The only saving grace for the RHA is that the leadership has been cajoled into supporting the campaign, and applied inancial support to it on behalf of its membership.
As individual groups, the RHA and the FTA have never had strength of leadership to mount a campaign of this stature and move it forward in a manner that government would listen to.
RHA chief executive Geoff Dunning told CM's sister title, Motor Transport, on 24 May 2010 that: "EU Legislation Directive 2003/96/EC Article 7 allows member states to have different rates of duty for non-commercial as opposed to commercial users. The EU minimum is about 30ppl and our current level is over 57ppl, so the UK government has plenty of scope to reduce duty without needing to rely on the concession in the directive." The associations should use the above directive for their own operational requirement and, assuming it is a positive for our industry, move it through the impending parliamentary debate.
Remember, according to Geoff Dunning, there is a "concession in the directive" .
Mike Presneill Presneill Tipper Contractors