Remapping tests are unreliable
27th October 2011
Page 14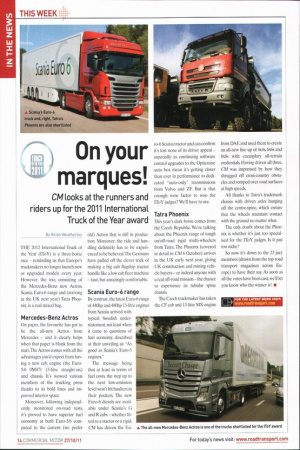 Page 14, 27th October 2011 —
Remapping tests are unreliable
Close
THE ARTICLE on ECU remapping (CM 6 October) highlights the sometimes farcical provisions of today's emissions legislation. When a vehicle rolls off the production line, ready to be sold in an EU country, it is required to comply with Euro-5 standards.
But as soon as it goes into service it is subject only to spot-checks or routine inspections, carried out using emissions-measuring apparatus far less sophisticated than the laboratory-standard equipment employed for steady-state and transient-type approval certiication. On-board diagnostic (OBD) systems are even more rudimentary. Therefore, in-service emissions testing cannot be as accurate as the law-enforcers would like. Consequently, a generous margin of 'exceedance' – to use the legislators' word – has to be allowed. As far as NOx levels are concerned, this margin can be as much as 100% over the statutory limit, which leaves a wide-open door for remapping, or rechipping, which goes against the spirit, if not the letter, of environmental regulations.
The rechippers' essential strategy is to advance a diesel's net injection timing. That improves engine eficiency, which can be exploited to boost either fuel economy or performance, or a blend of both.
But – and here is the crunch – that eficiency gain comes at the expense of higher peak combustion temperatures, bringing an inevitable rise in NOx levels. I would say, rechipping pushes NOx beyond certiied limits and, as such, eats into the in-service NOx exceedance margin. But because that margin has to be so generous, allowing for the lack of precision in testing station and roadside check equipment as well as OBD NOx sensors, rechippers can ply their trade. But looking ahead, as OBD sensors and test station emission measurements become more accurate and reliable, exceedance margins will be trimmed back. That will make, in my opinion, rechipping progressively more impractical.
Alan Bunting via email