MAN lifts the veil on new Euro-6 engines
27th October 2011
Page 10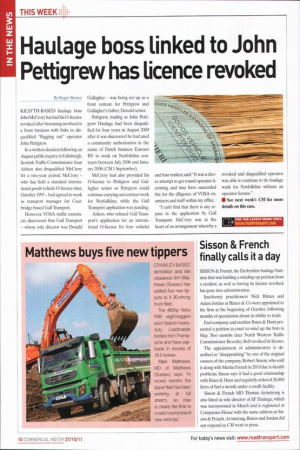 Page 10, 27th October 2011 —
MAN lifts the veil on new Euro-6 engines
Close
By David Wilcox MAN UNVEILED its irst Euro-6 engines at a bus and coach show in Kortrijk, Belgium last week. Although a strong advocate of EGRonly at Euro-4 and -5, MAN's irst Euro-6 engines use a combination of cooled EGR and SCR.
MAN hitherto has refused to disclose how it planned to comply with Euro-6 limits. It seems that its EGRonly technology was not capable of doing the job while still preserving acceptable fuel consumption. Scania, the other main advocate of an EGR-only policy at Euro-4 and -5, reached the same conclusion.
Three Euro-6 engines were displayed: a 10.5-litre D2066, a 6.9-litre D0836 and a 12.4-litre D2676. All three use the same key strategies, namely common-rail fuel-injection, two-stage turbo-charging and cooled variable EGR.
MAN is combining its SCR equipment with a diesel particulate ilter and an ammonia-slip catalyst into a single box in the exhaust, which doubles as the silencer.
Unlike the PM-Kat used in current MAN engines, the Euro-6 diesel particulate ilter is a closed (wall-low) design. The last component in the after-treatment system is the ammonia-slip catalyst, which prevents emissions of ammonia generated by the SCR system.
MAN says its Euro-6 engines will be no less economical than their Euro-5 counterparts. The addition of the SCR system changes the NOx/particulate trade-off, allowing MAN to tune combustion to reduce engine-out particulates, optimising fuel consumption.
MAN's irst Euro-6 buses will be delivered a year before the January 2014 deadline. The availability of Euro-6 engines in MAN's truck range will likely be revealed at the IAA Hannover CV show next September.
FOR THE LATEST NEWS VISIT:
www.roadtransport.com