ROADTEST
27th October 1994
Page 44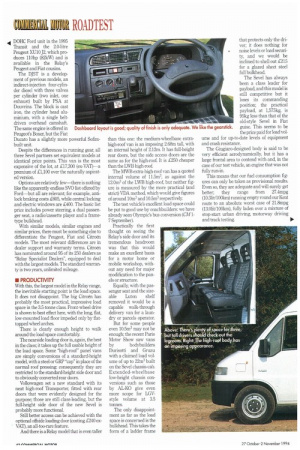 Page 44, 27th October 1994 —
ROADTEST
Close
DOHC Ford unit in the 1995 Transit and the 2.04itre Peugeot XU10J2, which produces 110hp (82kW) and is available in the Relay's Peugeot and Fiat cousins.
The DJ5T is a development of previous models, an indirect-injection four-cylinder diesel with three valves per cylinder (two inlet, one exhaust) built by PSA at Douvrins. The block is cast iron, the cylinder head aluminium, with a single beltdriven overhead camshaft The same engine is offered in Peugeot's Boxer, but the Fiat Ducato has a slightly more powerful Sofimbuilt unit.
Despite the differences in running gear, all three Sevel partners set equivalent models at identical price points. This van is the most expensive of the lot, at £17,300 (ex-VAT)—a premium of £1,100 over the naturally aspirated version.
Options are relatively few—there is nothing like the apparently endless SVO list offered by
Ford but all are relevant; for example, antilock braking costs £605, while central locking and electric windows are £400. The basic list price includes power steering, a dual passenger seat, a radio/cassette player and a frametype bulldiead.
With similar models, similar engines and similar prices, there must be something else to differentiate the Peugeot, Fiat and Citroen models. The most relevant differences are in dealer support and warranty terms. Citroen has nominated around 95 of its 250 dealers as "Relay Specialist Dealers", equipped to deal with the largest models. The standard warranty is two years, unlimited mileage.
With this, the largest model in the Relay range, the inevitable starting point is the load space. It does not disappoint. The big Citroen has probably the most practical, impressive load space in the 3.5-tonne class. Front-wheel drive is shown to best effect here, with the long, fiat, low-mounted load floor impeded only by fiattopped wheel arches.
There is clearly enough height to walk around the load space comfortably.
The nearside loading door is, again, the best in the class; it takes up the full usable height of the load space. Some "high-roof" panel vans are simply conversions of a standard-height model, with a steel or GRP "cap" in place of the normal roof pressing: consequently they are restricted to the standard-height side door and to obviously converted rear doors.
Volkswagen set a new standard with its neat high-roof Transporter, fitted with rear doors that were evidently designed for the purpose; those are still class-leading, but the full-height side door of the new Sevel is probably more functional.
Still better access can be achieved with the optional offside loading door (costing £240 exVAT), an all-too-rare feature.
And there is a Relay model that is even taller than this one: the medium-wheelbase extrahigh-roof van is an imposing 2.68m tall, with an internal height of 2.12m. It has full-height rear doors, but the side access doors are the same as for the high-roof. It is £250 cheaper than the LWB high-roof.
The MWB extra-high-roof van has a quoted internal volume of 11.5m3, as against the 12.0m3 of the LWB high-roof, but neither figure is measured by the more practical (and strict) VDA method, which would give figures of around 10m3 and 10.5m3 respectively
The test vehicle's excellent load space could be put to good use by coachbuilders: we have already seen Olympic's bus conversion (CM17 September).
Practically the first thought on seeing the Relay's side door and its tremendous headroom was that this would make an excellent basis for a motor home or mobile workshop, without any need for major modification to the panels or structure.
Equally, with the passenger seat and the size able Luton shelf removed it would be a capable walk-through delivery van for a laundry or parcels operator.
But for some people even 10.5m3 may not be enough; the recent Paris Motor Show saw vans by bodybuilders Durisorti and Gruau with a claimed load volume of up to 22m3 built on the Sevel chassis-cab. Extended-wheelbase low-height chassis conversions such as those by AL-KO give even more scope for WVstyle volume at 3.5 tonnes.
The only disappointment as far as the load space is concerned is the bulkhead. This takes the form of a ladder frame that protects only the driver; it does nothing for noise levels or load security, and we would be inclined to shell out £215 for a glazed sheet steel full bulkhead.
The Sevel has always been a class leader for payload, and this model is still competitive but it loses its commanding position; the practical payload, at 1,575kg, is 95kg less than that of the old-style Sevel in Fiat guise. This seems to be the price paid for load volume and for up-to-date levels of equipment and crash resistance.
The Giugiaro-designed body is said to be very efficient aerodynamically, but it has a large frontal area to contend with and, in the case of our test vehicle, an engine that was not fully run-in.
This means that our fuel consumption figures can only be taken as provisional results. Even so, they are adequate and will surely get better; they range from 27.4mpg (10.31it/100km) running empty round our Kent route to an absolute worst case of 21.8mpg (13.01it/100Iun), fully laden over a mixture of stop-start urban driving, motorway driving and track testing. No.