4 C regional aid is alive and well and willing
27th October 1994
Page 41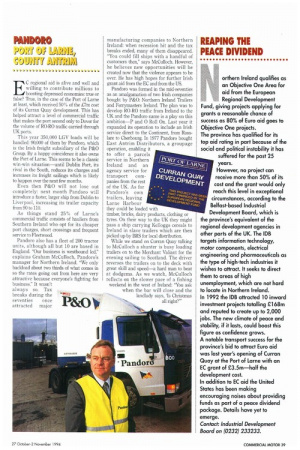 Page 41, 27th October 1994 —
4 C regional aid is alive and well and willing
Close
to contribute millions to boosting depressed economies: true or boosting depressed economies: true or false? True, in the case of the Port of Larne at least, which received 50% of the £7m cost of its Curran Quay development. This has helped attract a level of commercial traffic that makes the port second only to Dover for the volume of RO-RO traffic carried through UK ports.
This year 350,000 LGV loads will be handled: 90,000 of them by Pandoro, which is the Irish freight subsidiary of the P&O Group. By a happy coincidence it also owns the Port of Larne. This seems to be a classic win-win situation—until Dublin Port, its rival in the South, reduces its charges and increases its freight sailings which is likely to happen over the next few months.
Even then P&O will not lose out completely: next month Pandoro will introduce a faster, larger ship from Dublin to Liverpool, increasing its trailer capacity from 90 to 110.
As things stand 25% of Larne's commercial traffic consists of hauliers from Southern Ireland who opt for its cheaper port charges, short crossings and frequent service to Fleetwood.
Pandoro also has a fleet of 200 tractor units, although all but 10 are based in England. Our business is westbound led," explains Graham McCulloch, Pandoro's manager for Northern Ireland. "We only backload about two thirds of what comes in so the rates going out from here are very attractive because everyone's fighting for business." It wasn't always so. Tax breaks during the
seventies once attracted major
manufacturing companies to Northern Ireland: when recession hit and the tax breaks ended, many of them disappeared. "You could fill ships with a handful of customers then," says McCulloch. However, he believes new opportunities will he created now that the violence appears to be over. He has high hopes for further Irish grant aid from the EC and from the US.
Pandoro was formed in the mid-seventies as an amalgamation of two Irish companies bought by P&O: Northern Ireland Trailers and Ferrymasters Ireland. The plan was to develop RO-RO traffic from Ireland to the UK and the Pandoro name is a play on this ambition—P and 0 Roll On. Last year it expanded its operation to include an Irish service direct to the Continent, from Rosslare to Cherbourg. In 1977 Pandoro bought East Antrim Distributors, a groupage operation, enabling it to offer a parcels service in Northern Ireland and an agency service for transport companies from the rest of the UK. As for Pandoro's own trailers, leaving Larne Harbour they could be loaded with timber, bricks, dairy products, clothing or tyres. On their way to the UK they might pass a ship carrying Kelloggs cereals to Ireland in slave trailers which are then picked up by BRS for local distribution.
While we stand on Curran Quay talking to McCulloch a shunter is busy loading trailers on to the Merchant Valiant for the evening sailing to Scotland. The driver reverses the trailers on to the deck with great skill and speed—a hard man to beat at dodgems. As we watch, McCulloch reflects on the slower pace of a fishing weekend in the west of Ireland: "You ask when the bar will close and the landlady says, 'Is Christmas all right?'