V isitors to Northern Ireland, particularly to Armagh, might well come
27th October 1994
Page 39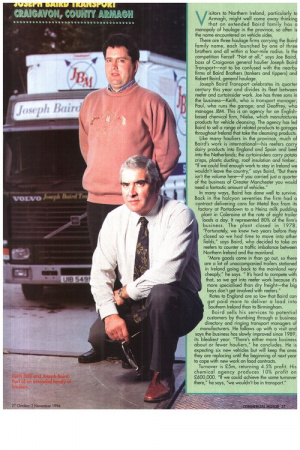 Page 39, 27th October 1994 —
V isitors to Northern Ireland, particularly to Armagh, might well come
Close
away thinking that an extended Baird family has a monopoly of haulage in the province, so often is the name encountered on vehicle sides.
There are three haulage firms carrying the Baird family name, each launched by one of three brothers and all within a four-mile radius. Is the competition fierce? "Not at all," says Joe Baird, boss of Craigavon general haulier Joseph Baird Transport—not to be confused with the nearby firms of Baird Brothers (tankers and tippers) and Robert Baird, general haulage. Joseph Baird Transport celebrates its quarter century this year and divides its fleet between reefer and curtainsider work. Joe has three sons in the business—Keith, who is transport manager; Paul, who runs the garage; and Geoffrey, who manages _IBM. This is an agency for an Englishbased chemical firm, Nielse, which manufactures products for vehicle cleansing. The agency has led Baird to sell a range of related products to garages throughout Ireland that take the cleansing products. Like many hauliers in the province, much of Baird's work is international—his reefers carry dairy products into England and Spain and beef into the Netherlands; the curtainsiders carry potato crisps, plastic ducting, roof insulation and timber.. "If we could find enough work to stay in Ireland we wouldn't leave the country," says Baird, "But there isn't the volume here—if you carried just a quarter of the business of Greater Manchester you would need a fantastic amount of vehicles."
In many ways, Baird has done well to survive. Back in the halcyon seventies the firm had a contract delivering cans for Metal Box from its factory at Portadown to a Heinz milk pudding plant in Coleraine at the rate of eight trailer loads a day. It represented 80% of the firm's business. The plant closed in 1978. "Fortunately, we knew two years before they closed so we had time to move into other fields," says Baird, who decided to take on reefers to counter a traffic imbalance between Northern Ireland and the mainland.
"More goods come in than go out, so there are a lot of unaccompanied trailers stationed in Ireland going back to the mainland very cheaply," he says. " It's hard to compete with that, so we got into reefer work because it's more specialised than dry freight—the big boys don't get involved with reefers." Rates to England are so low that Baird can get paid more to deliver a load into Southern Ireland than to Birmingham.
Baird sells his services to potential customers by thumbing through a business directory and ringing transport managers of manufacturers. He follows up with a visit and says the business has slowly improved since 1989, its bleakest year. "There's either more business about or fewer hauliers," he concludes. He is expecting six new vehicles but will keep the ones they are replacing until the beginning of next year to cope with new work on food contracts. Turnover is 25m, returning 4.5% profit. His chemical agency produces 10% profit on 2600,000. "If we could achieve the same turnover there," he says, "we wouldn't be in transport."