Red herring
27th October 1994
Page 34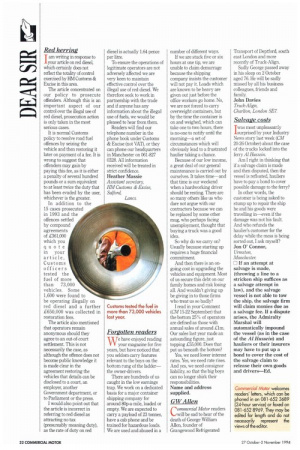 Page 34, 27th October 1994 —
Red herring
Close
am writing in response to your article on red diesel, which certainly does not reflect the totality of control exercised by 1-IM Customs & Excise in this area.
The article concentrated on our policy to prosecute offenders. Although this is an important aspect of our control over the illegal use of red diesel, prosecution action is only taken in the most serious cases.
It is normal Customs policy to resolve road fuel offences by seizing the vehicle and then restoring it later on payment of a fee. It is wrong to suggest that offenders may gain by paying this fee, as it is either a penalty of several hundred pounds or a sum equivalent to at least twice the duty that has been evaded by the user, whichever is the greater.
In addition to the 15 cases prosecuted in 1993 and the offences settled by compound agreements of £361,000 which you quote in your article, Customs officers tested the fuel of more than 73,000 vehicles. Some 1,600 were found to be operating illegally on red diesel and a further £650,000 was collected in restoration fees.
The article also mentioned that operators remain anonymous should they agree to an out-of-court settlement. This is not necessarily the case, as although the offence does not become public knowledge it is made clear in the agreement restoring the vehicles that details can be disclosed to a court, an employer, another Government department, or to Parliament or the press. I would also point out that the article is incorrect in referring to red diesel as attracting no tax (presumably meaning duty), as the rate of duty on red diesel is actually 1.64 pence per litre.
To ensure the operations of legitimate operators are not adversely affected we are very keen to maintain effective control over the illegal use of red diesel. We therefore seek to work in partnership with the trade and if anyone has any information about the illegal use of fuels, we would be pleased to hear from them.
Readers will find our telephone number in the phone book under Customs & Excise (not VAT), or they can phone our headquarters in Manchester on 061-827 0328. All information received will be treated in strict confidence.
Heather Massie Assistant secretary, HM Customs & Excise, Salfort4 e have enjoyed reading your magazine for five years, but have noticed that you seldom carry features relevant to the boys on the bottom rung of the ladder— the owner-drivers.
There are hundreds of us caught in the low earnings trap. We work on a dedicated basis for a major container shipping company for around 80p-a-mile, loaded or empty. We are expected to carry a payload of 23 tonnes, have a cab phone and be trained for hazardous loads. We are used and abused in a number of different ways.
If we are stuck five or six hours at one tip, we are unable to claim demurrage because the shipping company insists the customer will not pay it. Loads which are known to be heavy are given out just before the office workers go home. No, we are not forced to carry overweight containers, but by the time the container is on and weighed, which can take one to two hours, there is no-one to notify until the morning—a set of circumstances which will obviously lead to a frustrated haulier taking a chance.
Because of our low income, a great deal of our general maintenance is carried out by ourselves. It takes time—and that time is our weekend when a hardworking driver should be resting. There are so many others like us who dare not argue with our contractors because we can be replaced by some other mug, who perhaps facing unemployment, thought that buying a truck was a good idea.
So why do we carry on? Usually because starting up requires a huge financial commitment.
And then there is an ongoing cost in upgrading the vehicles and equipment. Most of us secure this debt on our family homes and risk losing all. And wouldn't giving up be giving in to those firms who treat us so badly?
I read in your Comment (CM15-22 September) that the bottom 25% of operators are defined as those with annual sales of around Lim. Our sales last year made an astounding figure, just topping £55,000. Does that put us beneath the bottom?
Yes, we need lower interest rates. Yes, we need rate rises. And yes, we need consignor liability, so that the big boys can no longer shirk their responsibilities.
Name and address supplied.
rominercial Motor readers
iwill be sad to hear of the death of George William Allen, founder of Grangewood Refrigerated Transport of Deptford, south east London and more recently of Truck-Align.
Sadly George passed away in his sleep on 2 October aged 76. He will be sadly missed by all his business colleagues, friends and
was most unpleasantly 'surprised by your Industry News story last week (CM 20-26 October) about the case of the trucks locked into the ferry Al Hussein.
Am I right in thinking that if a salvage claim is made and then disputed, then the vessel is refloated, hauliers have to pay a bond to cover possible damage to the ferry?
In other words, the customer is being asked to stump up to repair the ship he and his goods were travelling in—even if the damage was not his fault. And who refunds the haulier's customer for the delay while the mess is being sorted out, I ask myself? Jon 0' Connor, Urmston, Manchester
El If an attempt at salvage is made, (throwing a line to a stricken ship suffices as a salvage attempt in law), and the salvage vessel is not able to tow the ship, the salvage firm will claim monies due as a salvage fee. If a dispute arises, the Admiralty Marshal will automatically impound the vessel (as in the case of the Al Hussein) and hauliers or their insurers may have to put up a bond to cover the cost of the salvage claim to release their own goods and drivers—Ed.