Volvo Leyland invests
27th October 1988
Page 16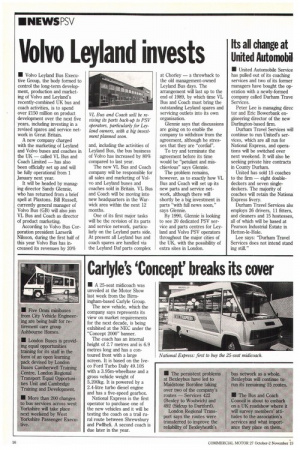 Page 16, 27th October 1988 —
Volvo Leyland invests
Close
• Volvo Leyland Bus Executive Group, the body formed to control the long-term development, production and marketing of Volvo and Leyland's recently-combined UK bus and coach activities, is to spend over £150 million on product development over the next five years, including investing in a revised spares and service network in Great Britain.
A new company charged with the marketing of Leyland and Volvo buses and coaches in the UK — called VL Bus and Coach Limited — has also been officially set up and will be fully operational from 1 January next year.
It will be headed by managing director Sandy Glennie, who has returned from a brief spell at Plutons. Bill Russell, currently general manager of Volvo Bus (GB) will also join VL Bus and Coach as director of product marketing.
According to Volvo Bus Corporation president Larseril Nilsson, during the first half of this year Volvo Bus has increased its revenues by 20% and, including the activities of Leyland Bus, the bus business of Volvo has increased by 80% compared to last year.
The new VL Bus and Coach company will be responsible for all sales and marketing of Volvo and Leyland buses and coaches sold in Britain. VL Bus and Coach will be moving into new headquarters in the Warwick area within the next 12 months.
One of its first major tasks will be the revision of its parts and service network, particularly on the Leyland parts side. At present all Leyland bus and coach spares are handled via the Leyland Daf parts complex at Chorley — a throwback to the old management-owned Leyland Bus days. The arrangement will last up to the end of 1989, by which time VL Bus and Coach must bring the outstanding Leyland spares and servicing outlets into its own organisation.
Glennie says that discussions are going on to enable the company to withdraw from the agreement, although he stresses that they are "cordial".
To try and terminate the agreement before its time would be "petulant and mischievious" says Glennie.
The problem remains, however, as to exactly how VL Bus and Coach will set up its new parts and service network, although there will shortly be a big investment in parts "with full news soon," says Glennie.
By 1990, Glennie is looking to see 20 dedicated PSV service and parts centres for Leyland and Volvo PSV operators throughout the major cities of the UK, with the possibility of extra sites in London.