An Electrically Welded Tipper
27th October 1944
Page 32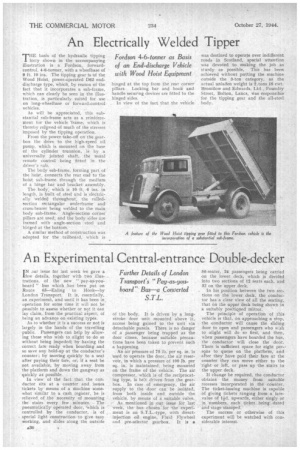 Page 32, 27th October 1944 —
An Electrically Welded Tipper
Close
THE basis of the hydraulic tipping lorry shown in the accompanying illustration is a Fordson, forwardcontrol, 4-6-tonner, with a wheelbase of 9 ft. 10 ins. The tipping gear is of the Wood I-foist, power-operated D62 enddischarge type, which, by reason of the fact that it incorporates a sub-frame, which can clearly be seen in the illustration, is particularly suited for use on long-wheelbase or forward-control vehicles.
As will be appreciated, this substantial sub-frame acts as a reinforcement forthe vehicle -frame, which is thereby relieved of much of the stresses imposed by the tipping operation.
From the power take-off on the gearbox the drive to the high-speed oil pump, which is mounted on the base of the cylinder trunnion, is by a universally jointed shaft, the usual remote control being fitted in the driver's cab.
The body sub-frame, forming part of the hoist, connects the rear end to the hoist sub-frame. through the medium of a hinge bar and bracket assembly.
The body: which is 10 ft. 6 ins, in length, is built of steel and is electrically welded throughout, the rolledsection rectangular underframe and cross-bearer being welded to the main body sub-frame. Angle-section coiner pillars are used, and the body sides are framed with angle-section steel and hinged at the bottom.
A similar method of construction was adopted for the tailboard, which is hinged at the top from the rear corner' pillars Locking bar and hook and handle securing devices are fitted to the hinged sides.
In view of the fact that the vehicle was destined to operate over indifferent roads in Scotland, special attention was devoted to making the joh as sturdy • as possible. This has been achieved without putting the machine outside the 3-ton category, as the actual unladen weight is 2,tons 18 cwt. Bromilow and Edwards, Ltd , Foundry Street, I3olton, Lancs, was sesponsible for the tipping gear and the all-steel body.