Leeds Wants Higher Fares to Balance Its Transport Budget
27th October 1944
Page 24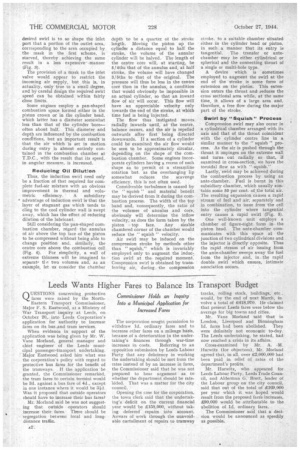 Page 24, 27th October 1944 —
Leeds Wants Higher Fares to Balance Its Transport Budget
Close
QUESTIONS concerning protective fares were raised by the NorthEastern Transport Commissioner, Major F. S. Eastwood, at a Ministry of War Transport inquiry at Leeds, on October 20, into Leeds Corporation's application for authority to increase fares on its bus ,and tram 'services.
When evidence in support of the application was being given by Mr, W. Vane Morland, general manager and chief engineer of the Leeds municipal passenger-transport undertaking, Major Eastwood asked him what was the corporation's policy with regard to protective bus fares for the benefit of the tramways. If the application be granted, the Commissioner remarked, the tram fares to certain termini would be &I. against a bus fare of 4d., except in one instance where it would be :lid. Was it proposed that outside operators should have to increase their bus fares?
Mr. Morland said he was not suggesting that outside operators should increase theirfares. There should be segregation between local and long distance traffic. The corporation sought permission to withdraw Id. ordinary fares and to increase other fares on a mileage basis, because of a deterioration in the undertaking's finances through war-time increases in costs. Referring to an opposition submission by Leeds Labour Party that any deficiency in working the undertaking should be met from the rates instead of by an increase in fares, the Commissioner said that he was not prepared to hear argument as to whether the department should be rate'aided. That was a matter for the city council.
Opening the case for the corporation, the town clerk said that the undertaking's deficit on the current financial year would be £158,000, without taking deferred repairs into account. Arrears of work through the unavoidable curtailment of repairs to tramway
tracks, rolling stock, buildings, etc,, would, by the end of next March, in. valve a total of £418,070. lie claimed that present Leeds fares were below the average for big towns and cities.
Mr, Vane Moriand said that in London, Liverpool and Birmingham fares had been abolished. They were definitely not economic to-day. The Leeds undertaking, he stated, had now reached a crisis in its affairs.
Cross-examined by Mr. A. .M. Hurwitz (for objectors), Mr. Mariamd agreed that, in all, over £2,000,000 had been paid in relief of rates of the department's profits.
Mr. Hurwitz, who appeared for Leeds Labour Party, Leeds Trade Council, and Alderman G. Brett, leader of the Labour group on the city council, said that out of the total of £109,000 per year which it was hoped would result from the proposed fares increases, £90,000 would be attributable to the abolition of 1d ordinary fares, The Commissioner said that a decision would be announced as speedily as possible.