HULL JOINT ORGANIZATION AND THE MERGER
27th October 1944
Page 21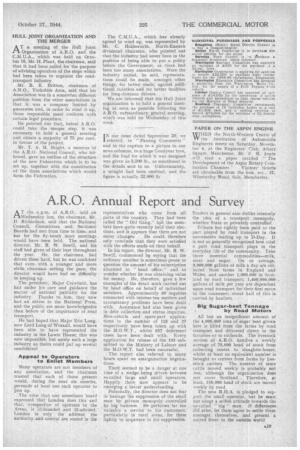 Page 21, 27th October 1944 —
HULL JOINT ORGANIZATION AND THE MERGER
Close
AT a meeting of the Hull Joint Organization of A.R.O. and the C.M.U.A., which was held on October 18, Mr. H. Plant, the chairman, said that it had been called for the purpose of advising operators of the steps which had been taken to organize the roadtransport industry
Mr. R. E. Britton, chairman of A.R.O., Yorkshire Area, said that his Association was in a somewhat different positien from the other associations in that it was a company limited by guarantee and, in order to wind it up, those responsible must conform with certain legal procedure.
He pointed out that, before A.R.O. could take the merger step, it was necessary to hold a general meeting and obtain a majority of 75 per cent. in favour of the project.
Mr. T. \I Bright, a member of the A.R.O. National Council, who followed, gave an outline of the structure oi the new Federation which is to be Set up, together with the constitution of the three associations which would form the Federation.
The C.M.U.A., which has already agreed to wind up, was represented by Mr. C. Holdsworth, North-Eastern divisional chairman, who pointed out that the industry. had never been in the position of being able to put a policy before the Government, as there had been too many associations. Were the industry united, he said, representations could be made, amongst other things, for better roads, against additional taxation and for better facilities for long-distance drivers.
We are informed that the Hull Joint organization is to hold a general meeting as soon as possible following the A.R.O. extraordinary. general meeting, which was held on Wednesday of this week.
I N our issue dated September 29, we referred, in " Passing Comments " and in the caption to a picture in our news columns, to a huge Goodyear tyre, and the load for which it was designed was given as 3,200 lb., as mentioned in the details sent to us. Unfortunately, a nought had been omitted, and the figure is actually 32,000 lb PAPER ON THE ASP1N ENGINE MIIEN the North-Western Centre of IT the Institution of Automobile Engineers meets on Saturday, November 4, at the Engineers' Club, Albert Square, Manchester, Mr. F. M. Aspin will read a paper entitled " The Development of the Aspin Rotary Com bustion Chamber Visitors' tickets are obtainable from the hon. sec . 27, Winstanley Road, Sale, Manchester.