Personal Pars
27th October 1944
Page 20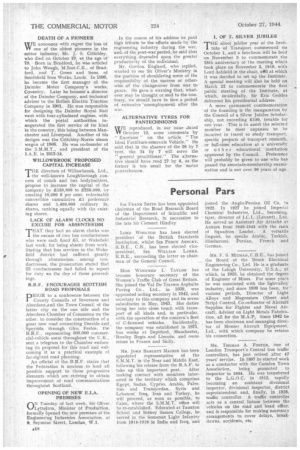 Page 20, 27th October 1944 —
Personal Pars
Close
Keywords :
SIR FRANK SMITH has been appointed chairman of the Road Research Board of the Department of Scientific and Industrial Research, hi succession to the late Sir Clement Hindley LORD WOOLTON has been elected president of the British Standards Institution, whilst Sue PERCY ASHLEY, K.B.E., C.B., has been elected vicepresident, SIR WILLIAM LARKE, K.B.E., succeeding the latter as chairman of the General Council.
MISS WINIFRED I. TAYLOR has become honorary secretary of the Women's Traffic Club of Great Britain. She joined the Val De Travers Asphalte Paving Co., Ltd., in 1939, was
• appointed acting secretary in 1942, and secretary to this company and its seven subsidiaries in May, 1943. Her duties bring her into close touch with transport of all kinds and, in particular, with the operation of the concern's fleet of C-licensed vehicles. Incidentally, the company was established in 1871, has works at Deptford, Manchester, • Rowley Regis. and Lincoln, and owns mines in France and Sicily.
MR. JOHN BARLETT MACKIE has been appointed representative of the S.M.M.T. in the Near and Middle East, following his release from the R.A.F. to take up this important post. After making contact with members interested in the territory which comprises Egypt, Sudan, Cyprus, Arabia, Palestine and Transjordan, Syria and Lebanon; Iraq, Iran and Turkey, he will proceed, as soon as possible, to Cairo, where the S.M.M.T. office will he re-established. Educated at Taunton School and Sidney Sussex College, he served in the Somerset Light Infantry from 1914-1919.in India and Iraq, and
joined the Anglo-Persian Oil Co. in 1922. In 1927 he joined Imperial Chemical Industries, Ltd., becoming, later, director of I.C.I. (Levant), Ltd. He served as Assistant Air Attache at Ankara from 1940-1944 with the rank of Squadron Leader. A versatile linguist, -he speaks Arabic, Turkish, Hindustani, Persian, French and German.
MR. F. S. MIMI-AN, C.B.E., has joined the Board of the Brush Electrical Engineering Co., Ltd. He is a graduate of the Lehigh University, U.S.A., at which, in 1923, he obtained the degree of Engineer of Mines. For some yea-s he was associated with the light-alloy industry, and since 1939 has been, for various periods, Director of Light Alloys and Magnesium (Sheet and Strip) Control, Co-ordinator of Aircraft Supplies for Fighter and Naval Aircraft, Adviser on Light Metals Fabrication, all for the M.A.P, Since 1942 he has been chairman and ma.naging director of Messier Aircraft Equipment, Ltd., with which company he retains his connection.
MR. THOMAS A. FOSTER, one of London Transport's Central bus traffic controllers, has just retired after 47 years' service. In 1897 he started work as a conductor with the Camden Town Association, being promoted to inspector in 1904. He was transferred to the L.G.O.C. in 1912, rapidly becoming an assistant divisional inspector, divisional inspector, district superintendent and, finally, in 1926, traffic controller. A traffic controller acts as a central liaison between the vehicles on the road and head office, and is responsible for making necessary arrangements trs cover delays, . breakdowns, accidents, etc.
Tags
Organisations
:
General Council
,
Board of the Brush Electrical Engineering Co.
,
Taunton School
,
British Standards Institution
,
Somerset Light Infantry
,
Road Research Board
,
Sidney Sussex College
,
Department of Scientific and Industrial Research
,
Lehigh University
,
Camden Town Association
,
Women's Traffic Club