Outcrop-coal Ministry Owes
27th October 1944
Page 19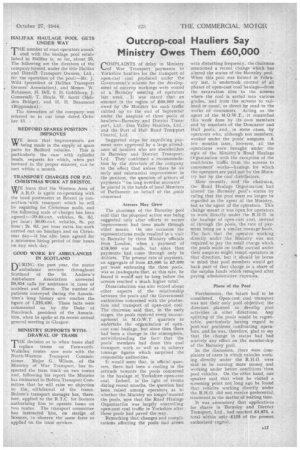 Page 19, 27th October 1944 —
Outcrop-coal Ministry Owes
Close
COMPLAINTS of delay in Ministry of War Transport payments to Yorkshire hauliers for the transport of open-cast coal produced under the Government's scheme for the development of outcrop workings were voiced at a Barnsley meeting of operators last week. . It was stated that an amount in the region of £60,000 was owed by the Ministry for such traffic carried up to the end of September under the auspices of three poo:s of hauliers—Barnsley and District Transport,. Ltd., Don Valley Hauliers, Ltd.,' and the Fort of Hull Road Trari4port Control, Ltd.
Suggested steps for expediting payment were approved by a large attendance of hauliers who are shareholders in Barnsley and District Transport, Ltd. They confirmed a recommendation by the directors of the company to the effect that unless there be an early and substantial improvement in the position, the question of arrears of payments "On long overdue accounts" be placed in the hands of local Members of Parliament on behalf of the pools concerned.
Areears May Grow
The chairman of the Barnsley pool said that the proposed action was being suggested only after efforts to secure 'improvement had been made through other means, On one occasion the representations made resulted in a visit to Barnsley by three Ministry officials from London, when a payment of £18,000 was made, but since then payments had come through only in driblets. The present rate of payment, an aggregate of from £5,000 to 07,000 per week embracing the three pools, was so inadequate that, at this rate, he feared it would not be long before the arrears reached a much higher total.
Dissatisfaction was also voiced about other aspects of the relationship between the pools and the Government authorities concerned with the production and transport of open-cast coal. The chairman said that, in the early stages, the pools received every encouragement in M.O.W.T. quarters to undertake the organiiation of opencast coal haulage, but since then there had been a change in the atmosphere, notwithstanding the factthat the pools' members had done this coal transport work so well as to achieve tonnage figures which surprised the responsible authorities.
It would seem that, in -official quarters, there had been a cooling in the attitude towards the pools concerned in the haulage of Yorkshire. open-cast coal. Indeed, in the light of events during recent months, the question bad been raised among operators as to whether the Ministry no longer wanted the pools, now that the Road Haulage Organization was largely controlling open-cast coal traffic in Yorkshire after
those pools had paved the way. " Remarking that changes and complications affecting the pools had arisen