Hauliers Say Them £60,000
27th October 1944
Page 19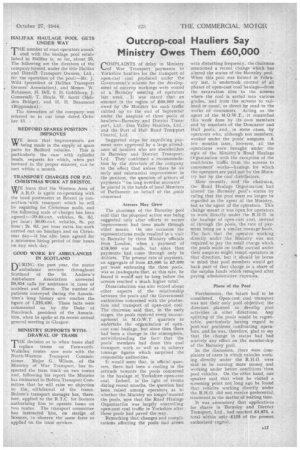 Page 19, 27th October 1944 —
Hauliers Say Them £60,000
Close
with disturbing frequency, the chairman Mentioned a recent change which has altered the status of the Barnsley pool. When this pool was formed in February last, it undertook control of all phases of open-cast coal haulage—from the excavation sites to the screens where the coal is sorted. into various grades, and from the screens to railhead or canal, or direct by road to the works of consumers. Acting as the agent of the M.O.W.T., it controlled this work done by its own members and by members of the Doncaster and Hull pools, and, in some cases, by operators who, although not members, worked under the pools' auspices. A few months later, however, all the opera Lions were brought under the legis of the Ministry's Road Haulage Organization with the exception of the road-borne traffic from the screens to consumers' works—haulage for which the operators are paid not by the Ministry but by the coal distributors.
More recently, Said the chairman, the Road Haulage Organization had altered the Barnsley' pool's status by ruling that the pool must no longer be regarded as the agent of the Ministry, but as the agent of the carerators. This change meant it was Open for operators to work directly under the R.H.O. in the haulage of open-cast coal, instead of through the pools, the rate of payment being on a similar tonnage' basis. The fact that the operator working directly under the Ministry was not required to pay the small charge which the pools made on traffic carried under their auspices might tempt operators in that direction, but it should be borne in mind that pool members would get back part of that charge in a share of the surplus funds which remained after paying administrative expenses.
Plans of the Pool
Furthermore, the future had to be considered. Open-cast coal transport was not their only pool objective; the directors planned to develop pool activities in other directions. Any splitting of the pools would be regrettable, particularly having regard to post-war problems confronting operators, and he was, therefore, glad to say that the change in status had had scarcely any effect on the membership of the Barnsley pool.
In the discussion, there v■rere complaints of cases in which vehicles working directly under the R.H.O. were said. to be earning more money and working under better conditions than pool vehicles. On the other hand, one speaker said that when he visited a screening point not long ago he found that vehicles working directly under the R.H.O. did not receive preferential treatment in the matter of waiting time.
It was announced that applications for shares in "Barnsley and District Transport, Ltd., had reached £4,875, a total within only •£125 of the present authorized castital.