One Hears
27th October 1944
Page 17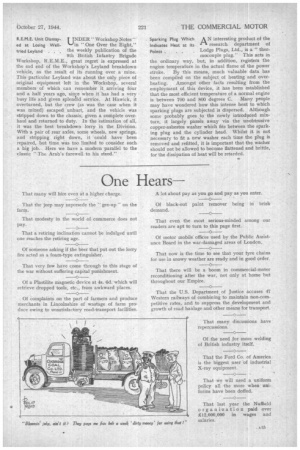 Page 17, 27th October 1944 —
One Hears
Close
That many will hire even at a higher charge.
That the jeep may supersede the " gee-up " on the farm.
That modesty in the world of. commerce does not pay.
That a retiring inclination cannot be indulged until one reaches the retiring age.
Of someone asking if the beer that put out the lorry fire acted as a foam-type extinguisher.
That very few have come through to this stage of the war without suffering capital punishment.
Of a Plastilite magnetic device at 4s. 6d. which will retrieve dropped tools, etc., from awkward places.
Of complaints on the part of farmers and produce merchants in Lincolnshire of wastage of farm produce owing to unsatisfactory road-transport facilities. A lot about pay as you go and pay as you enter.
Of black-out paint remover being in brisk demand.
That even the most serious-minded among our readers are apt to turn to this page first.
Of motor mobile offices used by the Public Assistance Board in the war-damaged areas of London.
That now is the time to see that your tyre chains for use in snowy weather are ready and in good order.
That there will be a boom in commercial-motor reconditioning after the war, not only at home but throughout our Empire.
That the U.S. Department. of Justice accuses 47 Western railways of combining to maintain non-competitive rates, and to suppress the development and growth of road haulage and other means for transport.
That many discussions have repercussions.
Of the need for more welding of British industry itself.
That the Ford Co. of America is the biggest user of industrial X-ray equipment.
That we will need a uniform policy all the more when uniforms have been doffed.
That last year the Nuffield organization paid over £12,000,000 in wages and salaries.