Passing Comments
27th October 1944
Page 16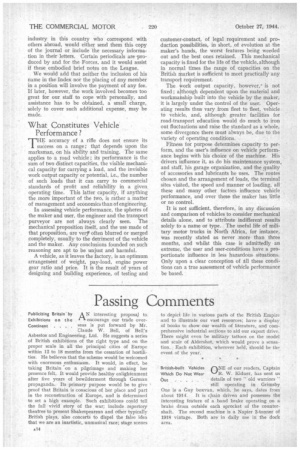 Page 17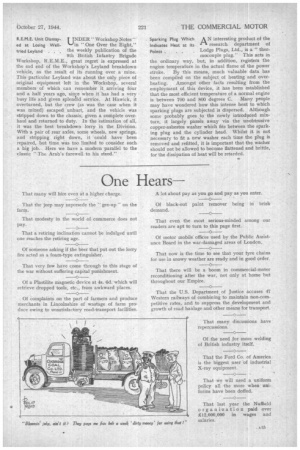 Page 16, 27th October 1944 —
Passing Comments
Close
Publicizing Britain' by A N interesting proposal to Exhibitions on the encourage our trade over Continent . . . seas is put forward by Mr.
Claude W. Bell, of Bell's Asbestos and Engineering, Ltd. He suggests a series of British exhibitions of the right type and on the proper scale in all the principal cities of Europe within 12 to 18 months from the cessation of hostilities. He believes that the scheme would be welcomed with enormous enthusiasm. It would, in effect, be taking Britain on a pilgrimage and making her presence felt. It would provide healthy enlightenment after five years of bewilderment through German propaganda. Its primary purpose would be to give ' proof that Britain is conscious of her place and part in the reconstruction of Europe, and is determined to set a high example. Such exhibitions could tell the full vivid story of the war; include repertory theatres to present Shakespearean and other typically British plays, also concerts to dispel the false idea that we are an inartistic, unmusical race; stage scenes Al4
to depict life in various parts of the British Empire and to illustrate our vast resources; have a display of books to show our wealth of literature, and comprehensive industrial sections to aid our export drive. There might even be military tattoos on the model and scale of Aldershot, which would prove a sensation. Each exhibition, wherever held, should be the event of the year.
British-built Vehicles (—)NE of our readers, Captain
Which Do Not Wear R. W. Kidner, has sent us details of two "old warriors " still operating in Grimsby One is a tuy boxvan, which, he says, dates from about 1914. It is gain driven and possesses the interesting feature of a band brake operating on a brake drum outside each sprocket of the countershaft. The second machine is a Napier 3-tanner of 1,918 vintage. Both are in daily use in the dock area. Out . . . R.E.M.E. Unit DismayINDER " Workshop Notes "
ed at Losing Wellin "One Over the Eight,"
tried Leyland . . . the weekly publication of the
9th British Infantry Brigade Workshop, R.E.M.E., great regret is expressed at the sad end of the Workshop's Leyland breakdown vehicle, as the result of its running over a mine. This particular Leyland was about the only piece of original equipment left in the Workshop, several members of which can remember it arriving four and a half years ago, since when it has had a very busy life and given splendid service. At Hawick, it overturned, but the crew (as was the case when it was mined) escaped unhurt, and the vehicle was stripped down to the chassis, given a complete overhaul and returned to duty. In the estimation of all, it was the best breakdown lorry in the Division. With a pair of rear axles, some wheels, new springs, and stripping right down, it could have been repaired, but time was too limited to consider such a big job. Here we have a modern parallel to the classic "The Arab's farewell to his steed."
Sparking Plug Which A N interesting product of the Indicates Heat at its J-1 research department of Points . . . . Lodge Plugs, Ltd., is a " thermocouple plug." This acts in the ordinary way, but, in addition, registers the engine temperature in the actual flame of the power
stroke. By this means, much valuable data has been compiled on the subject of heating and over heating. Amongst other facts resulting from the employment of this device, it has been established that the most efficient temperature of a normal engine is between 700 and 800 degrees C. Many people may have wondered how this intense heat to which sparking plugs are subjected is dispersed. Although sonic probably goes to the newly introduced mixture, it largely passes away via the unobtrusive copper-asbestos washer which fits between the sparking plug and the cylinder head. Whilst it is not necessary to fit a new washer each time the plug is removed and refitted, it is important that the washer should not be allowed to become flattened and brittle, for the dissipation of heat will be retarded.