THE ANSWEI
27th November 1982
Page 44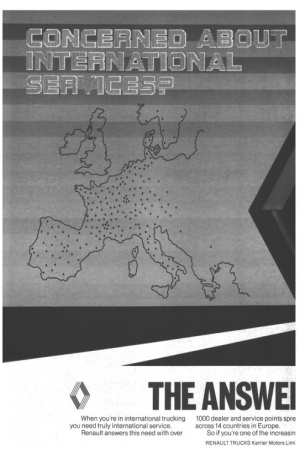 Page 45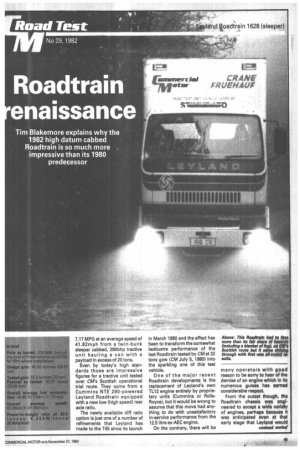 Page 46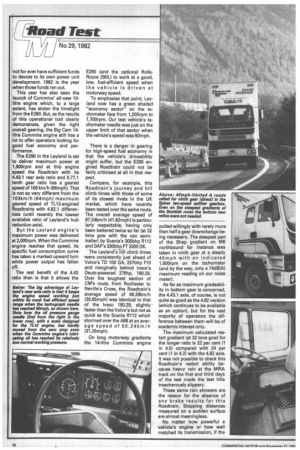 Page 47
Page 44, 27th November 1982 —
THE ANSWEI
Close
When you're in international trucking 1000 dealer and service points spre you need truly international service. across 14 countries in Europe.
Renault answers this need with over So if you're one of the increasin
7.17 MPG at an average speed of 41.82mph from a twin-bunk sleeper cabbed, 290bhp tractive unit hauling a van with a payload in excess of 20 tons.
Even by today's high standards those are impressive figures for a tractive unit tested over CM's Scottish operational trial route. They come from a Cummins NTE 290-powered Leyland Roadtrain equipped with a new low (high speed) rear axle ratio.
The newly available diff ratio option is just one of a number of refinements that Leyland has made to the T45 since its launch
in March 1980 and the effect has been to transform the somewhat lacklustre performance of the last Roadtrain tested by CM at 32 tons gcw (CM July 5, 1980) into the sparkling one of this test vehicle.
One of the major recent Roadtrain developments is the replacement of Leyland's own TL12 engine entirely by proprietary units (Cummins or RollsRoyce), but it would be wrong to assume that this move had anything to do with unsatisfactory in-service performance from the 12.5 litre ex-AEC engine.
On the contrary, there will be many operators with good reason to be sorry to hear of the demise of an engine which in Its numerous guises has earned considerable respect.
From the outset though, the Roadtrain chassis was engineered to accept a wide variety of engines, perhaps because it was anticipated even at that early stage that Leytand would not for ever have sufficient funds • to devote to its own power unit 'development. 1982 is the year when those funds ran out.
This year has also seen the launch of Cummins' all-new 10litre engine which, to a large extent, has stolen the limelight from the E290. But, as the results of this operational trail clearly demonstrate, given the right overall gearing, the Big Cam 14litre Cummins engine still has a lot to offer operators looking for good fuel economy and performance.
The E290 in the Leyland is set -to deliver maximum power at 1,900rpm and at this engine speed the Roadtrain with its 4.43.1 rear axle ratio and 0.77.1
• tenth gear ratio has a geared speed of 106 km/h (66mph). That • is not so very different from the 103km/h (64mph) maximum geared speed of TL12-engined Roadtrains with 4.82.1 differentials (until recently the lowest available ratio of Leyland's hub reduction axle).
But the Leyland engine's • maximum power was delivered at 2,000rpm. When the Cummins • engine reaches that speed, its specific fuel consumption curve has taken a marked upward turn while power output has fallen off.
The real benefit of the 4.43 ratio then is that it allows the E290 (and the optional RollsRoyce 290L) to work at a good, low, fuel-efficient speed when the vehicle is driven at motorway speed.
To emphasise that point, Leyland now has a green shaded "economy sector" on the tachometer face from 1,200rpm to 1,700rpm. Our test vehicle's tachometer needle was just on the upper limit of that sector when the vehicle's speed was 60mph.
There is a danger in gearing for high-speed fuel economy in that the vehicle's driveability might suffer, but the E290 engined Roadtrain could not be fairly criticised at all in that respect.
Compare, for example, this Roadtrain's journey and hill climb times with those of some of its closest rivals in the UK market, which have recently been tested over the same route. The overall average speed of 67.24km/h (41.82mph) is particularly respectable, having only been bettered twice so far (at 32 tons gcw with the van semitrailer) by Scania's 305bhp R112 and DAF's 330bhp FT 3300 DK.
The Leyland's hill climb times were consistently just ahead of 'Volvo's TD 100 GA, 257bhp F10 and marginally behind lveco's Deutz-powered 276hp, 190.29. Over the toughest section of CM's route, from Rochester to Neville's Cross, the Roadtrain's average speed of 49.28km/h (30.65mph) was identical to that of the lveco 190.29, slightly .faster than the Volvo's but not as ,quick as the Scania R112 which 'stormed over the A68 at an average speed of 5 0.2 4 km/h (31.25mph).
On long motorway gradients the 14-litre Cummins engine pulled willingly with rarely more than half a gear downchange being necessary. The steepest part of the Shap gradient on M6 northbound for instance was taken in ninth gear at a steady 45mph with an indicated 1,600rpm on the tachometer (and by the way, only a 74dB(A) maximum reading on our noise meter).
As far as maximum gradeability in bottom gear is concerned, the 4.43.1 axle, of course, is not quite as good as the 4.82 version (which continues to be available as an option), but for the vast majority of operators the difference between them will be of academic interest only.
,The maximum calculated restart gradient (at 32 tons gcw) for the longer ratio is 22 per cent (1 in 4.5) compared with 24 per cent (1 in 4.2) with the 4.82 axle. It was not possible to check this Roadtrain's restart ability because heavy rain at the MIRA track on the first and third days of the test made the test hills treacherously slippery.
These same rain showers are the reason for the absence of any brake results for this Roadtrain. Stopping distances measured on a sodden surface are almost meaningless.
No matter how powerful a vehicle's engine or how well matched its transmission, if the vehicle's ride and handling characteristics are not up to a certain standard then its performance is bound to suffer to a degree through a driver's lack of confidence in his steed.
It is the A68 section of CM's route where each heavy vehicle's handling characteristics are tested most severely and it is here that the driver gains a lasting impression of any shortcomings. Because of difficult-to-define qualities, some vehicles somehow feel "right" while others definitely do not. I would put the day-cabbed short wheelbase Roadtrain into the latter category, while the latest, long wheelbase high datum model certainly comes into the former one.
The difference in ride quality is not solely a function of the sleeper-cabbed model's longer wheelbase. The design of the cab suspension at the rear is different on the high datum cab, with a single transverse leaf spring replacing the two quarter elliptic components of the premium cab and with longer telescopic dampers mounted at a different angle. Furthermore, the sleeper cab has softer rubber in its front mountings. There are also some minor differences between the sleeper and the daycabbed vehicle's primary (chassis) suspension: the high datum version having slimmer (30mm) anti-roll bars and slightly modified rear dampers.
The sleeper-cabbed Roadtrain rolls more than most British built-tractive units, when entering and leaving roundabouts for example, but cornering speed would need to reach a foolhardy 'level before this effect would become at all unnerving.
The great advantage of the softer suspension is that it soaks up the bumps well and eliminates any unpleasant cab pitching movement. For my taste the degree of power assistance on the test vehicle's steering was just right and the uncertainty in the straight-ahead position, which was noticeable on early Roadtrains, was completely absent on this one.
However, Leyland's specification sheet's section on steering continues to disagree with the actual number of turns from lock to lock, showing 5 as against an actual 41/4.
A Retro gate type exhaust brake is now offered as an option by Leyland and one was fitted to the test vehicle. Its retardation affect is better than the poor average standard of most modern engine brakes of this kind but in one area, namely noise, its performance in the Roadtrain is entirely unsatisfactory.
To say simply that it is noisy in operation is an understatement. When the floor-mounted control button is pressed, a noise like the sound of a frenetic rock drummer in concert comes from the air-intake stack. Leyland's engineers, of course, are well aware of this noise problem and are working on stopping it.
The Spicer gearbox installation in Roadtrain has come in for a deal of criticism, not because of any mismatching with the engine, but because of the standard of gearchange, especially the splitter's operation. The main problem arose because the preselector splitter mechanism was linked to the clutch's hydraulic circuit so that as soon as hydraulic pressure began to build up the splitter cogs began to engage, even if the clutch was not fully disengaged — hence the almost inevitable irritating noise.
Leyland now fits a micro switch to the clutch pedal, and the air valve to which this is connected blocks operation of the splitter until the clutch is disengaged.
The result is a great improvement in the quality of split shifting which will be greatly appreciated by Roadtrain drivers. Still, it has to be said that the general quality of gearshifting in the Leyland even now is not quite up to the excellent standard currently being set by Seddon Atkinsons 401 Fuller installation or DAF's ZF, for example. However, rather than being a serious criticism of Roadtrain that is praise for its competitors.
Summary This 1982 high datum cabbed Roadtrain is an altogether more impressive vehicle than the 1980 premium (day) cabbed model.
I find it not at all surprising that increasingly operators are choosing this Roadtrain in preference to the day-cabbed version, despite its price premium of £780 and weight penalty of 325kg. Now that we are about to have a 38-tonne weight limit and a 15.5m-length limit it is likely that the swing towards this Roadtrain model will become even greater.