Hours: 'next year'
27th November 1982
Page 4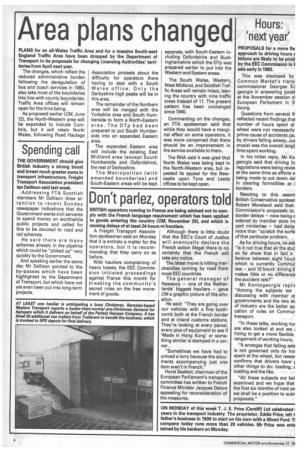 Page 4, 27th November 1982 —
Hours: 'next year'
Close
PROPOSALS for a more fle approach to driving hours r lations are likely to be prod by the EEC Commission in E sels early in 1983.
This was disclosed by Common Market's trans commissioner Georges Kc georgis in answering quest at the November session ol European Parliament in S. bourg.
Questions from several IV reflected recent findings that number of hours spent at wheel were not necessarily prime cause of accidents cat. by drivers falling asleep. JUE crucial was the overall lengt time spent working.
In his initial reply, Mr Ko georgis said that driving hc regulations were being reviei at the same time as efforts vl being made to cut down del in clearing formalities at I borders.
Reacting to this assert British Conservative spokesr Robert Moreland said that Commission's proposals to border delays — now being c sidered by member state tre port ministries — had done more than "scratch the surfa of that particular problem.
As for driving hours, he ask "Is it not true that all the stuc so far show that in fact a ference between eight hour: which is currently Commut law — and 10 hours' driving ti makes little or no difference the accident rate?"
Mr Kontogeorgis replic "Among the subjects we discussing with member st governments and the two sic of industry are the better ap cation of rules on Commur transport.
"In these talks, working hoi are also looked at and we trying to get a more flexible rangement of working hours.
"It emerges that falling asle is not governed only by hot spent at the wheel, but reseal confirms that drivers have c other things to do: loading, loading and the like.
"All these subjects are bei examined and we hope that the first six months of next ye we shall be a position to subr proposals."