Don't parlez, operators told
27th November 1982
Page 4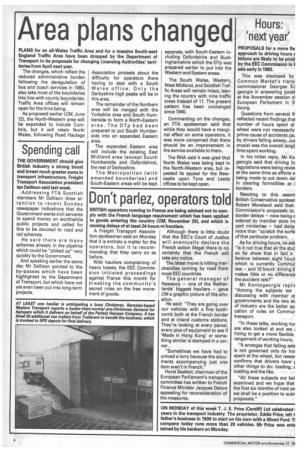 Page 4, 27th November 1982 —
Don't parlez, operators told
Close
BRITISH operators running to France are being advised not to comply with the French language requirement which has been applied to goods entering the country (CM, November 20), and which is causing delays of at least 24 hours lat frontiers.
A Freight Transport Association spokesman said on Monday that it is entirely a matter for the operators, but it is recommending that they carry on as before.
With hauliers complaining of heavy losses, the EEC Commission initiated proceedings against France this month for breaking the community's sacred rules on the free movement of goods. Although there is little doubt that the EEC's Court of Justice will eventually declare the French action illegal there is no certainty that the French will take any notice.
The latest move is hitting merchandise coming by road from most EEC countries.
The general manager of Newexco — one of the Netherlands' biggest hauliers — gave CM a graphic picture of the situation.
He said: "They are going over our vehicles with a fine toothcomb both at the French border and at inland customs stations. They're looking at every parcel, every pice of equipment to see if 'Made in Hong Kong' or something similar is stamped in a cor-, ner.
"Sometimes we have had to unload a lorry because the documents accompanying just one item aren't in French."
Horst Seefeld, chairman of the European Parliament's transport committee has written to French Finance Minister Jacques Delors appealing for reconsideration of the measures.