Weights: victory expected
27th November 1982
Page 3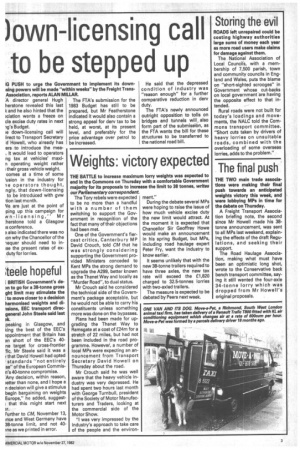 Page 3, 27th November 1982 —
Weights: victory expected
Close
THE BATTLE to increase maximum lorry weights was expected to end in the Commons on Thursday with a comfortable Government majority for its proposals to increase the limit to 38 tonnes, writes our Parliamentary correspondent.
The Tory rebels were expected to be no more than a handful with a number of them switching to support the Government in recognition of the fact that many of their objections had been met.
One of the Government's fiercest critics, Canterbury MP David Crouch, told CM that he was strongly considering supporting the Government provided Ministers conceded to Kent MPs the strong demand to upgrade the A299, better known as the Thanet Way and locally as "Murder Road", to dual status.
Mr Crouch said he considered the technical side of the Government's package acceptable, but he would not be able to carry his constituents unless something more was done on the bypasses.
Plans had been made for upgrading the Thanet Way to Ramsgate at a cost of £24m for a stretch of 22 miles, but had not been included in the road programme. However', a number of local MPs were expecting an announcement from Transport Secretary David Howell on Thursday about the road.
Mr Crouch said he was well aware that the heavy vehicle industry was very depressed. He had spent two hours last month with George Turnbull, president of the Society of Motor Manufacturers and Traders, looking at the commercial side of the Motor Show.
"I was very impressed by the industry's approach to take care of the people and the environ ment."
During the debate several MPs were hoping to raise the issue of how much vehicle excise duty the new limit would attract. At the moment it is expected that Chancellor Sir Geoffrey Howe would make an announcement in his spring Budget, but MPs, including road haulage expert Peter Fry, want the industry to know earlier.
It seems unlikely that with the new 38-tonne trailers required to have three axles, the new tax rate will exceed the £1,820 charged to 32.5-tonnes lorries with two-axled trailers.
The measure is expected to be debated by Peers next week.