These Terexs have not fallen on stony ground
27th November 1982
Page 29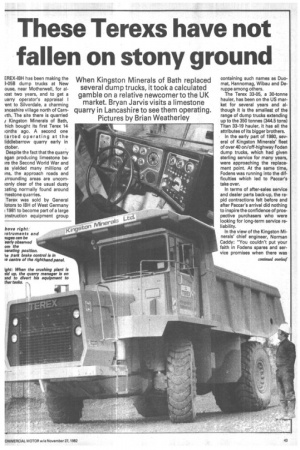 Page 30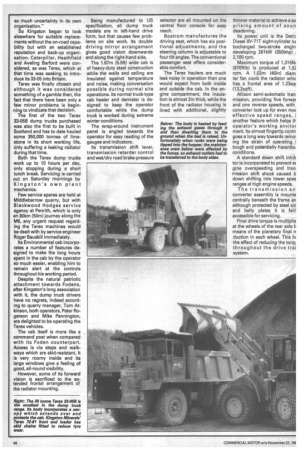 Page 31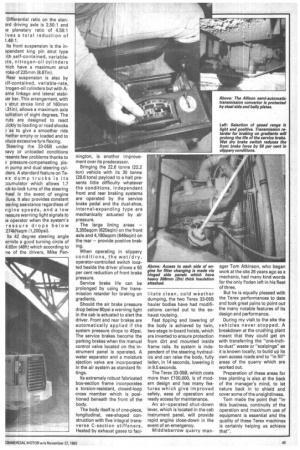 Page 29, 27th November 1982 —
These Terexs have not fallen on stony ground
Close
Keywords :
Engineering Vehicles
,
Dump Trucks
,
General Motors
,
Terex
,
Parking Brake
,
Axle
,
Edwin Foden, Sons & Co.
,
Truck
,
Railway Air Brake
,
Terex Titan
When Kingston Minerals of Bath replaced several dump trucks, it took a calculated gamble on a relative newcomer to the UK market. Bryan Jarvis visits a limestone quarry in Lancashire to see them operating. Pictures by Brian Weatherley
EREX-IBH has been making the 3-05B dump trucks at New ouse, near Motherwell, for allost two years, and to get a Jerry operator's appraisal I rent to Silverdale, a charming mcashire village north of Carn
■ rth. The site there is quarried if Kingston Minerals of Bath, hich bought its first Terex 14 ionths ago. A second one tarted operating at the liddlebarrow quarry early in ctober.
Despite the fact that the quarry egan producing limestone be)re the Second World War and as yielded many millions of )ns, the approach roads and mounding areas are uncomionly clear of the usual dusty mting normally found around -nestone quarries.
Terex was sold by General lotors to IBH of West Germany 1981 to become part of a large )nstruction equipment group containing such names as Duomat, Hannomag, Wibau and Deruppe among others.
The Terex 33-05, a 30-tonne hauler, has been on the US market for several years and although it is the smallest of the range of dump trucks extending up to the 350 tonnes (344.5 tons) Titan 33-19 hauler, it has all the attributes of its bigger brothers.
In the early part of 1980, several of Kingston Minerals' fleet of over 40 on/off-highway Foden dump trucks, which had given sterling service for many years, were approaching the replacement point. At the same time, Fodens was running into the difficulties which led to Paccar's take over.
In terms of after-sales service and dealer parts back-up, the rapid contractions felt before and after Paccar's arrival did nothing to inspire the confidence of prospective purchasers who were looking for long-term service reliability.
In the view of the Kingston Minerals' chief engineer, Norman Caddy: "You couldn't put your faith in Fodens spares and service promises when there was so much uncertainty in its own organisation."
So Kingston began to look elsewhere for suitable replacements without the on-road capability but with an established reputation and back-up organisation. Caterpillar, Heathfield and Aveling Barford were considered, as was Terex, which at that time was seeking to introduce its 33-05 into Britain.
Terex was finally chosen and although it was considered something of a gamble then, the fact that there have been only a few minor problems is beginning to vindicate that decision.
The first of the two Terex 33-058 dump trucks purchased was also the first to be built in Scotland and has to date hauled some 350,000 tonnes of limestone in its short working life, only suffering a leaking radiator during that time.
Both the Terex dump trucks work up to 10 hours per day, only stopping during a short lunch break. Servicing is carried out on Saturday mornings by Kingston's own plant mechanics.
Few service spares are held at Middlebarrow quarry, but with Blackwood Hodges service agency at Penrith, which is only an 80km (50m) journey along the M6, any urgent request regarding the Terex machines would be dealt with by service engineer Roger Bauskill immediately.
Its Environmental cab incorporates a number of features designed to make the long hours spent in the cab by the operator so much easier, enabling him to remain alert at the controls throughout his working period.
Despite the natural patriotic attachment towards Fodens, after Kingston's long association with it, the dump truck drivers have no regrets, indeed according to quarry manager, Tom Atkinson, both operators, Peter Rogerson and Mike Pennington, are delighted to be operating the Terex vehicles.
The cab itself is more like a command post when compared with its Foden counterpart. Access is via steps and walkways which are skid-resistant. It is very roomy inside and its large windows give a feeling of good, all-round visibility.
However, some of its forward vision is sacrificed to the extended frontal arrangement of the radiator mounting. Being manufactured to US specification, all dump truck models are in left-hand drive form, but that causes few problems on site work. Its double driving mirror arrangement gives good vision downwards and along the right-hand side.
The 1.67m (5.5ft) wide cab is of heavy-duty steel construction while the walls and ceiling are insulated against temperature and noise, making conversation possible during normal site operations. Its normal truck-type cab heater and demister is designed to keep the operator comfortable while the dump truck is worked during extreme winter conditions.
The wrap-around instrument panel is angled towards the operator for easy reading of the gauges and indicators.
Its transmission shift lever, transmission retarder control and wet/dry road brake-pressure selector are all mounted on the central floor console for easy reach.
Bostrom manufactures the driving seat, which has six positional adjustments, and the steering column is adjustable to four tilt angles, The conventional passenger seat offers considerable comfort.
The Terex haulers are much less noisy in operation than one would expect from both inside and outside the cab. In the engine compartment, the insulation is almost 2in thick, while the front of the radiator housing is lined with additional, slightly thinner material to achieve a su prising amount of soun deadening.
Its power unit is the Detrc Diesel 8V-71T eight-cylinder tu bocharged two-stroke engin, developing 261kW (350bhp) 2,100 rpm.
Maximum torque of 1,315Ni (370ftlb) is produced at 1,52 rpm. A 1.02m (40m) diem ter fan cools the radiator whic has a frontal area of 1.23sql (13.2sqft).
Allison semi-automatic tram mission, providing five forwar and one reverse speeds, with converter lock up for even mor effective speed ranges, i another feature which helps th operator's working enviror ment. Its almost fingertip contri goes a long way towards remc» ing the strain of operating i tough and potentially hazardoi. conditions.
A standard down shift inhib tor is incorporated to prevent er gine overspeeding and tram mission shift shock caused b down shifting into lower spee ranges at high engine speeds.
The transmission an converter assembly is rnounte centrally beneath the frame an although protected by steel sid and belly plates it is fairl accessible for servicing.
Final drive torque is multiplie at the wheels of the rear axle b means of the planetary final n duction in each wheel. This ht the effect of reducing the tarp'. throughout the drive trai system. Differential ratio on the stenard driving axle is 2.50:1 and le planetary ratio of 4.59:1 Ives a total reduction of 1.48:1.
Its front suspension is the in?pendent king pin strut type ith self-contained, variable)te, nitrogen-oil cylinders hich have a maximum strut roke of 225mm (8.87in).
Rear suspension is also by )If-contained, variable-rate, trogen-oil cylinders but with Aame linkage and lateral stabi5er bar. This arrangement, with
strut stroke limit of 160mm l.31in), allows a maximum axle 3cillation of eight degrees. The ruts are designed to react Jickly to loading or road shocks ) as to give a smoother ride hether empty or loaded and to ;duce excessive tyre flexing. Steering the 33-05B under aavy or unloaded conditions resents few problems thanks to 3 pressure-compensating pis ■ rt pump and dual steering cyliders. A standard feature on Teex dump trucks is its -..cumulator which allows 1.7
■ ck-to-lock turns of the steering !heel in the event of engine illure. It also provides constant eering assistance regardless of ngine speeds, and a low ressure warning light signals to le operator when the system's ressure drops below 274kNsqm (1,200psi).
Its 42 degree steering angle ermits a good turning circle of 4.65m (48ft) which according to ne of the drivers, Mike Pen nington, is another improvement over its predecessor.
Bringing the 22.6 tonne (22.2 ton) vehicle with its 30 tonne (29.6 tons) payload to a halt presents little difficulty whatever the conditions. Independent front and rear braking systems are operated by the service brake pedal and the dual-shoe, internal-expanding type are mechanically actuated by air pressure.
The large lining areas — 3,355sqcm (620sqin) on the front axle and 4,180sqcm (648sqin) on the rear — provide positive braking.
When operating in slippery conditions, the wet/dry, operator-controlled switch located beside the driver allows a 50 per cent reduction of front brake pressure.
Service brake life can be prolonged by using the transmission retarder for braking on gradients.
Should the air brake pressure drop below 80psi a warning light in the cab is actuated to alert the driver. Front and rear brakes are automatically applied if the system pressure drops to 45psi. The service brakes become the parking brakes when the manual control valve located on the instrument panel is operated. A water separator and a moisture ejection valve are incorporated in the air system as standard fittings.
Its extremely robust fabricated box-section frame incorporates a torsion-resistant, closed-loop cross member which is positioned beneath the front of the body.
The body itself is of one-piece, longitudinal, vee-shaped construction with five integral transverse C-section stiffeners. Heated by exhaust gases to faci litate clean, cold weather dumping, the two Terex 33-05B hauler bodies have had modifications carried out to the exhaust routeing.
Fast tipping and lowering of the body is achieved by twin, two-stage in-board hoists, which are inverted to ensure protection from dirt and mounted inside frame rails. Its system is independent of the steering hydraulics and can raise the body, fully laden, in 14 seconds, lowering it in 9.5 seconds.
The Terex 33-05B, which costs more than £100,000, is of modern design and has many features which give improved safety, ease of operation and ready access for maintenance.
An air-operated shut-down lever, which is located in the cab instrument panel, will provide rapid engine close-down in the event of an emergency.
Middlebarrow quarry man ager Tom Atkinson, who began work at the site 26 years ago as a mechanic, had many kind words for the only Foden left in his fleet of three.
But he is equally pleased with the Terex performances to date and took great pains to point out the many notable features of its design and performance.
During my visit to the site the vehicles never stopped. A breakdown at the crushing plant meant that they could get on with transferring the "one-inchto-dust" waste or "scalpings" as it is known locally, to build up its own access roads and to "in fill" areas of the quarry which are worked out.
Preparation of these areas for tree planting is also at the back of the manager's mind, to let nature back in to shield and cover some of the unsightliness.
Tom made the point that "in this business, continuity of the operation and maximum use of equipment is essential and the quality of these Terex machines is certainly helping us achieve that".