Mudlarks in Elthand
27th November 1982
Page 26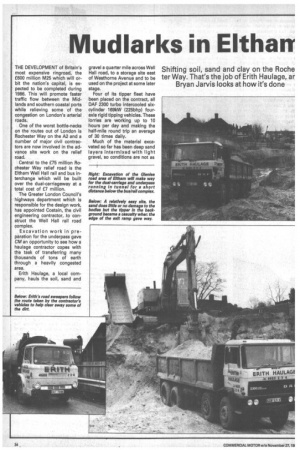 Page 27
Page 28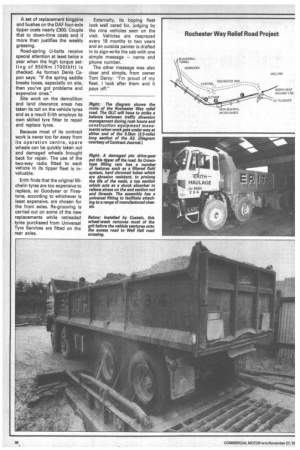 Page 26, 27th November 1982 —
Mudlarks in Elthand
Close
Shifting soil, sand and clay on the Roche ter Way. That's the job of Erith Haulage, ar Bryan Jarvis looks at how it's done
THE DEVELOPMENT of Britain's most expensive ringroad, the £600 million M25 which will orbit the nation's capital, is expected to be completed during 1986. This will promote faster traffic flow between the Midlands and southern coastal ports while relieving some of the congestion on London's arterial roads.
One of the worst bottle-necks on the routes out of London is Rochester Way on the A2 and a number of major civil contractors are now involved in the advance site work on the relief road.
Central to the £75 million Rochester Way relief road is the Eltham Well Hall rail and bus interchange which will be built over the dual-carriageway at a total cost of £7 million.
The Greater London Council's highways department which is responsible for the design work, has appointed Costain, the civil engineering contractor, to construct the Well Hall rail road complex.
Excavation work in preparation for the underpass gave CM an opportunity to see how a haulage contractor copes with the task of transferring many thousands of tons of earth through a heavily congested area.
Erith Haulage, a local company, hauls the soil, sand and gravel a quarter mile across Well Hall road, to a storage site east of Westhorne Avenue and to be used on the project at some later stage.
Four of its tipper fleet have been placed on the contract, all OAF 2300 turbo intercooled sixcylinder 169kW (225bhp) fouraxle rigid tipping vehicles. These lorries are working up to 10 hours per day and making the half-mile round trip an average of 30 times daily.
Much of the material excavated so far has been deep sand layers intermixed with light gravel, so conditions are not as enuous or demanding on the nicles as is normally encouned, but deterioration of the ather almost certainly affects ) operation.
Mechanical failures have been v and far between although at .1 time of the visit, one of the 1F tippers had fractured a veller shaft universal joint d drive flange, as the side of ) exit ramp gave way. When ) vehicle had been unloaded d pulled clear of the haul road, ormation was fed back for th's workshop foreman to ;ate a suitable replacement. By the end of the day the hide was repaired and ready begin operating again.
Hauling 16 tons of sand out of a rain sodden site leaves the hides very dirty, and to reice the amount of muck being read along the roads Costain is installed a wheel-wash at a exit point. All drivers are inucted to use it.
Another example of the ntractor's attitudes towards aping roads reasonably clear dirt is the Ford road-sweeper lich Erith has assigned to the intract and which creeps and deeps constantly along the fected roads.
It is one of four road-sweeping !hides purchased from Bexley local council in 1972 for tipper route clearance work.
The fact that all four tippers on the site are DAF is no coincidence. Erith began to standardise on the Dutch-built vehicles five years ago after experiencing considerable difficulties by the non-availability of spare parts for its predominantly Leyland fleet.
Managing director Tom Darcy started his haulage business 14 years ago with one tipper and £18 in the bank, gradually building up a small fleet of Leyland tippers. However, as his fleet grew so did his problems, through lack of spare parts.
An example of some of the difficulties encountered was when one of his Freighter tippers suffered cab damage last year. It cost him an expensive three to four-week wait for the cab front panels required to get it back on the road.
Similar damage occurred to one of its DAF tippers early this year and the DAF service agent, Penfold Motors, supplied the parts within 24 hours.
Workshop foreman Denis Capon made it clear that the Dutchbuilt vehicles did have their problems, but the difference was in the service parts back-up and the response towards its customer.
Erith's md explained: "Leyland's cavalier attitude towards my spare parts problems was costing me money."
The "crunch" came while he was sitting on Kings Cross railway station in the early hours of the morning waiting for the Leeds train to arrive with gearbox parts to put one of his Leyland Clydesdale back on the road after a long delay.
Shortly after this "saga", Tom took delivery of a DAF 2200 16 ton tipping vehicle for a weeklong demonstration and since that stage has replaced and increased his fleet with DAF models.
Erith Haulage Company's tipping fleet now consists of 16 DAF tipping vehicles, and four Leylands. One is a Freighter and the others are Clydesdales, which are running well at the moment.
The tipping bodies are manufactured by either Thompson (UK) Ltd of New Addlestone or Neville Charrold of Mansfield. The 13cum (17cuyd) types are of steel construction while the 14cum (18.3cuyd) are of aluminium build and all of the bo dies last the working life of the vehicle.
All except one of the bodies are operated by Edbro manufactured tipping gear. The exception is fitted with a Crown MC554, four-stage hoist supplied by Multilift of Shrewsbury. Thompsons (UK) Ltd is seeking to evaluate some of the body-lifts which are currently being imported and marketed in the UK with competitive prices, and Crown which is of Finnish origin, is one of them.
Unfortunately, it was not possible to see the operation of this vehicle as it was residing on the workshop floor awaiting the new power take-off drive gear, which arrived, the day after my visit, by 'TNT 24-hour delivery service from Shrewsbury.
Maintenance is carried out on Saturday morning by the workshop staff comprising the foreman and two others one of whom is his son Denis junior.
Each vehicle is washed or steam cleaned before a full greasing, followed by a check of engine, transmission and body mountings. Every vehicle receives a full service at six-week intervals.
Since the weekly greasing of components has been initiated, the incidence rate of worn kingpins and bushes, shacklepins and bushes has been drastically reduced. A set of replacement kingpins and bushes on the DAF four-axle tipper costs nearly £300. Couple that to down-time costs and it more than justifies the weekly greasing.
Road-spring U-bolts receive special attention at least twice a year when the high torque setting of 9 50Nm (7 0 Olbft) is checked. As forman Denis Capon says: "If the spring saddle breaks loose, especially on site, then you've got problems and expensive ones."
Site work on the demolition and land clearance areas has taken its toll on the vehicle tyres and as a result Erith employs its own skilled tyre fitter to repair and replace tyres.
Because most of its contract work is never too far away from its operation centre, spare wheels can be quickly taken out and damaged wheels brought back for repair. The use of the two-way radio fitted to each vehicle in its tipper fleet is invaluable.
Erith finds that the original Michelin tyres are too expensive to replace, so Goodyear or Firestone, according to whichever is least expensive, are chosen for the front axles. Re-grooving is carried out on some of the new replacements while retreaded tyres purchased from Universal Tyre Services are fitted on the rear axles. Externally, its tipping fleet look well cared for, judging by the nine vehicles seen on the visit. Vehicles are resprayed every 18 months to two years and an outside painter is drafted in to sign-write the cab with one simple message — name and phone number.
The other message was also clear and simple, from owner Tom Darcy: "I'm proud of my fleet. I look after them and it pays off."