It's Show time for the civic chiefs
27th November 1982
Page 19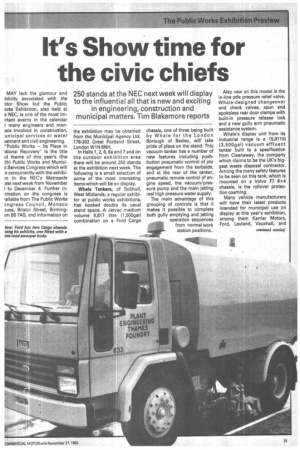 Page 20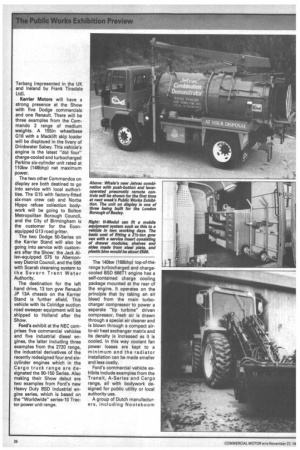 Page 21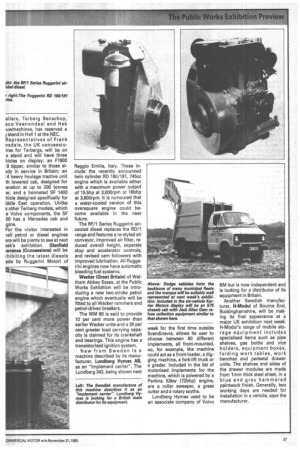 Page 19, 27th November 1982 —
It's Show time for the civic chiefs
Close
Keywords :
Rootes
,
Car Manufacturers
,
Karrier
,
Commer
,
Diesel Engine
,
Truck
,
Pneumatics
,
Dodge 50 Series
,
Volvo
,
Ford Motor Company
,
Internal Combustion Engine
250 stands at the NEC next week will display to the influential all that is new and exciting in engineering, construction and municipal matters. Tim Blakemore reports
MAY lack the glamour and iblicity associated with the otor Show but the Public orks Exhibition, also held at e NEC, is one of the most imIrtant events in the calendar r many engineers and man'cars involved in construction, unicipal services or water aatment and civil engineering. "Public Works — Its Place in 3tional Recovery" is the title id theme of this year's (the ith) Public Works and Munici11 Services Congress which will n concurrently with the exhibim in the NEC's Metropole tel next week from November I to December 4. Further inrmation on the congress is railable from The Public Works ongress Council, Monaco Duse, Bristol Street, Birmingim B5 7AS, and information on
the exhibition may be obtained from the Municipal Agency Ltd, 178-202 Great Portland Street, London W1N 6NH.
In Halls 1, 2, 6, 6a and 7 and on the outdoor exhibition area there will be around 250 stands at the exhibition next week. The following is a small selection of some of the most interesting items which will be on display.
Whale Tankers, of Solihull, West Midlands, a regular exhibitor at public works exhibitions, has booked double its usual stand space. A Jetvac medium volume 6,817 litre (1,500gal) combination on a Ford Cargo chassis, one of three being built by Whale for the London Borough of Bexley, will take pride of place on the stand. This vacuum tanker has a number of new features including pushbutton pneumatic control of pto engagement from the kerbside, and at the rear of the tanker, pneumatic remote control of engine speed, the vacuum/pressure pump and the main jetting reel high pressure water supply.
The main advantage of this grouping of controls is that it makes it possible to complete both gully emptying and jetting operation sequences from normal work station positions. Also new on this model is the in-line ptfe pressure relief valve, Whale-designed changeover and check valves, spun and spokeless rear door clamps with built-in pressure release lock and a new gully arm pneumatic assistance system.
Whale's display unit from its industrial range is a 15,9111it (3,500gal) vacuum effluent tanker built to a specification from Cleanaway, the company which claims to be the UK's biggest waste disposal contractor. Among the many safety features to be seen on this tank, which is mounted on a Volvo F7 8x4 chassis, is the rollover protection coaming.
Many vehicle manufacturers will have their latest products intended for municipal use on display at this year's exhibition, among them Karrier Motors, Ford, Leyland, Vauxhall, and Terberg (represented in the UK and Ireland by Frank Tinsdale Ltd).
Karrier Motors will have a strong presence at the Show with five Dodge commercials and one Renault. There will be three examples from the Commando 2 range of medium weights. A 155in wheelbase G16 with a Macklift skip loader will be displayed in the livery of Drinkwater Sabey. This vehicle's engine is the latest "dot four" charge-cooled and turbocharged Perkins six-cylinder unit rated at 110kw (148bhp) net maximum power.
The two other Commandos on display are both destined to go into service with local authorities. The G15 with factory-fitted six-man crew cab and Norba Hippo refuse collection bodywork will be going to Bolton Metropolitan Borough Council, and the City of Birmingham is the customer for the Econequipped G13 road g rifler.
The two Dodge 50-Series on the Karrier Stand will also be going into service with customers after the Show: the Jack Allen-equipped S75 to Aberconway District Council, and the S66 with Scarab cleansing system to the Severn Trent Water Authority.
The destination for the left hand drive, 13 ton gvw Renault JP 13A chassis on the Karrier Stand is further afield. This vehicle with its Colridge suction road sweeper equipment will be shipped to Holland after the Show.
Ford's exhibit at the NEC comprises five commercial vehicles and five industrial diesel engines, the latter including three examples from the 2720 range, the industrial derivatives of the recently redesigned four and sixcylinder engines which in the Cargo truck range are designated the 90-150 Series. Also making their Show debut are two examples from Ford's new Heavy Duty BSD industrial en gine series, which is based on the "Worldwide" series-10 Tractor power unit range. The 140kw (188bhp) top-of-therange turbocharged and chargecooled BSD 666T1 engine has a self-contained charge cooling package mounted at the rear of the engine. It operates on the principle that by taking an air bleed from the main turbocharger compressor to power a separate "tip turbine" driven compressor, fresh air is drawn through a special air cleaner and is blown through a compact airto-air heat exchanger matrix and its density is increased as it is cooled. In this way coolant fan power losses are kept to a minimum and the radiator installation can be made smaller and less costly.
Ford's commercial vehicle exhibits include examples from the Transit, A-Series and Cargo range, all with bodywork designed for public utility or local authority use.
A group of Dutch manufacturers, including Nooteboom ailers, Terberg Benschop, aco Veenendaal and Hek iuwmachines, has reserved a 3 stand in Hall 1 at the NEC.
Representatives of Frank nsdale, the UK concessioires for Terbergs, will be on s stand and will have three hides on display: an F1900 :8 tipper, similar to those al3dy in service in Britain; an :4 heavy haulage tractive unit th lowered cab, designed for leration at up to 200 tonnes w; and a bonneted SF 1400 hide designed specifically for iddle East operation. Unlike other Terberg models, which e Volvo components, the SF .00 has a Mercedes cab and 'gine.
For the visitor interested in all petrol or diesel engines ere will be plenty to see at next aek's exhibition. Glanfield iwrence (Concessions) will be chibiting the latest diesels ade by Ruggerini Motori of Reggio Emilia, Italy. These include the recently announced twin cylinder RD 180/181, 745cc engine which is available either with a maximum power output of 15.5hp at 3,000rpm or 16bhp at 3,600rpm. It is rumoured that a water-cooled version of this oversquare engine could become available in the near future.
The RF/1 Series Ruggerini aircooled diesel replaces the RD/1 range and features a re-styled air conveyor, improved air filter, reduced overall height, separate stop and accelerator controls, and revised cam followers with improved lubrication. All Ruggerini engines now have automatic bleeding fuel systems.
Wacker (Great Britain) of Waltham Abbey Essex, at the Public Works Exhibition will be introducing a new two-stroke petrol engine which eventually will be fitted to all Wacker rammers and petrol-driven breakers.
The WM 80 is said to provide 10 per cent more power than earlier Wacker units and a 30 per cent greater load carrying capacity is claimed for its crankshaft and bearings. This engine has a transistorised ignition system.
New from Sweden is a machine described by its manufacturer, Lundberg Hymas AB, as an "implement carrier". The Lundberg 342, being shown next week for the first time outside Scandinavia, allows its user to choose between 60 different implements, all front-mounted, so, for example, the machine could act as a front-loader, a digging machine, a fork-lift truck or a grader. Included in the list of motorised implements for the machine, which is powered by a Perkins 53kw (72bhp) engine, are a roller sweeper, a grass cutter and a rotary scythe.
Lundberg Hymas used to be an associate company of Volvo BM but is now independent and is looking for a distributor of its equipment in Britain.
Another Swedish manufacturer, H-Modul of Bourne End, Buckinghamshire, will be making its first appearance at a major UK exhibition next week. H-Modul's range of mobile storage equipment includes specialised items such as pipe shelves, gas bottle and vice holders, equipment boxes, folding work tables, work benches and pedestal drawer units. The shelves and sides of the drawer modules are made from 1mm thick steel sheet, in a blue and grey hammered paintwork finish. Generally, two working days are needed for installation in a vehicle, says the manufacturer.