Muddle management
27th November 1982
Page 2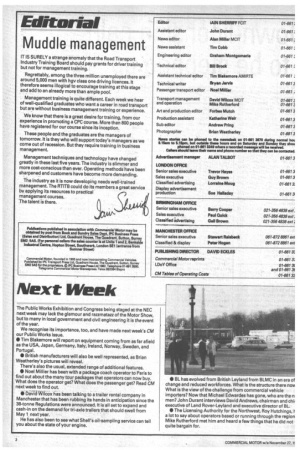 Page 2, 27th November 1982 —
Muddle management
Close
IT IS SURELY a strange anomaly that the Road Transport Industry Training Board should pay grants for driver training but not for management training.
Regrettably, among the three million unemployed there are around 5,000 men with hgv class one driving licences. It therefore seems illogical to encourage training at this stage and add to an already more than ample pool.
Management training is quite different. Each week we hear of well-qualified graduates who want a career in road transport but are without business management training or experience.
We know that there is a great desire for training, from our experience in promoting a CPC course. More than 800 people have registered for our course since its inception.
These people and the graduates are the managers of tomorrow. It is they who will support today's managers as we come out of recession. But they require training in business management.
Management techniques and technology have changed greatly in these last five years. The industry is slimmer and more cost-conscious than ever. Operating methods have been sharpened and customers have become more demanding.
The industry as it is now developing needs well-trained management. The RTITB could do its members a great service by applying its resources to practical management courses.
The talent is there.