dours: a lost opportunity?
27th November 1982
Page 17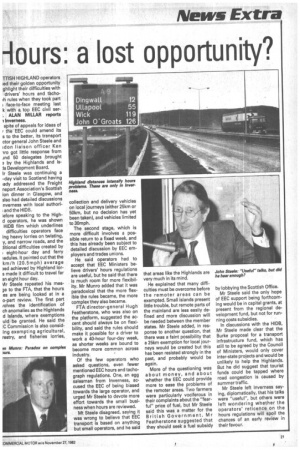 Page 17, 27th November 1982 —
dours: a lost opportunity?
Close
TrISH HIGHLAND operators ied their golden opportunity ghlight their difficulties with drivers' hours and tachoih rules when they took part face-to-face meeting last k with a top EEC civil ser:. ALAN MILLAR reports Inverness.
spite of appeals for ideas of the EEC could amend its s to the better, its transport ctor general John Steele and idon liaison officer Ken iro got little response from Ind 50 delegates brought a by the Highlands and Isis Development Board.
Ir Steele was continuing a i-day visit to Scotland having ady addressed the Freight nsport Association's Scottish ion dinner in Glasgow, and also had detailed discussions nverness with local authoriand the HIDB.
efore speaking to the Highd operators, he was shown HIDB film which underlines
difficulties operators face ing heavy lorries on twisting, y, and narrow roads, and the litional difficulties created by ; eight-hour day and ferry iedules. It pointed out that the km/h (20.5mph) average aed achieved by Highland lors made it difficult to travel far 3n eight hour day.
Vlr Steele repeated his mesge to the FTA, that the hours es are being looked at in a 0-part review. The first part rolves the identification of ch anomalies as the Highlands d Islands, where exemptions uld be granted. He said the :C Commission is also considing exempting agricultural, restry, and fisheries lorries, collection and delivery vehicles on local journeys (either 25km or 50km, but no decision has yet been taken), and vehicles limited to 30mph.
The second stage, which is more difficult involves a possible return to a fixed week, and this has already been subject to detailed discussion by EEC employers and trades unions.
He said operators had to accept that EEC Ministers believe drivers' hours regulations are useful, but he said that there is much room for more flexibility. Mr Munro added that it was paradoxical that the more flexible the rules became, the more complex they also became.
FTA director-general Hugh Featherstone, who was also on the platform, suggested the accent should always be on flexibility, and said the rules should make it possible for a driver to work a 40-hour four-day week, as shorter weeks are bound to become more common across industry.
Of the few operators who asked questions, even fewer mentioned EEC hours and tachograph regulations. One, an egg salesman from Inverness, accused the EEC of being biased towards the large operator, and urged Mr Steele to devote more effort towards the small business when hours are reviewed.
Mt Steele disagreed, saying it was wrong to believe that EEC transport is based on anything but small operators, and he said that areas like the Highlands are very much in its mind.
He explained that many difficulties must be overcome before the remoter areas can be exempted. Small islands present little trouble, but remote parts of the mainland are less easily defined and more discussion will be needed between the member states. Mr Steele added, in response to another question, that there was a faint possibility that a 25km exemption for local journeys would be created but this has been resisted strongly in the past, and probably would be again.
More of the questioning was about money, and about whether the EEC could provide more to ease the problems of the remoter areas. Two farmers were particularly vociferous in their complaints about the "fearful" price of fuel, but Mr Steele said this was a matter for the British Government, Mr Featherstone suggested that they should seek a fuel subsidy by lobbying the Scottish Office.
Mr Steele said the only hope of EEC support being forthcoming would be in capital grants, at present from the regional development fund, but not for running costs subsidies.
In discussions with the HIDB, Mr Steele made clear that the Burke proposal for a transport infrastructure fund, which has still to be agreed by the Council of Ministers, would only cover inter-state projects and would be unlikely to help the Highlands. But he did suggest that tourist funds could be tapped where road congestion is caused by summer traffic.
Mr Steele left Inverness saying, diplomatically, that his talks were "useful", but others were left wondering whether the operators' reticence on the hours regulations will spoil the chances of an early review in their favour.