Chalker slate London
27th November 1982
Page 14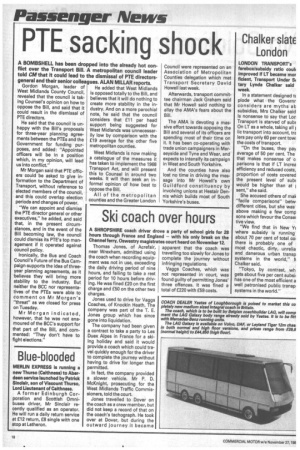 Page 14, 27th November 1982 —
Chalker slate London
Close
LONDON TRANSPORT's farebox/subsidy ratio coulo improved if LT became mor ficient, Transport Under So tary Lynda Chalker said week.
In a statement designed tc plode what the Governr considers are myths ab subsidies, Mrs Chalker said is nonsense to say that Lon Transport is starved of subs On LT as a whole, taking all I lic transport into account, tra lers pay only 60 per cent tom the costs of transport.
"On the buses, they pay average of 50 per cent. The that makes nonsense of ci parisons is that if LT increa efficiency and reduced costs, proportion of costs covered the present level of subs would be higher than at I sent," she said.
She accused others of mak "facile comparisons" betwi different cities, but she was above making a few comp sons which favour the Consei tive view.
"We find that in New Yt where subsidy is running about 70 per cent of total co: there is probably one of most chaotic, dirty, unrelia and danerous urban transp systems in the world," II Chalker said.
"Tokyo, by contrast, wh gets about five per cent subsii has one of the most efficient a well patronised public transpi systems in the world."