,utocar and Hoynor up load capaci
27th November 1982
Page 13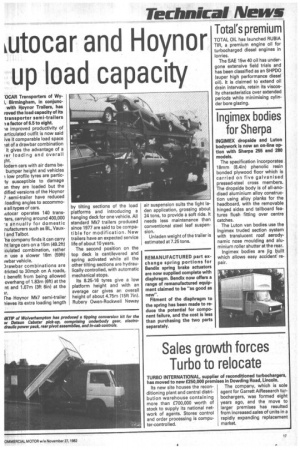 Page 13, 27th November 1982 —
,utocar and Hoynor up load capaci
Close
'OCAR Transporters of Wy1, Birmingham, in conjuncwith Roynor Trailers, has roved the load capacity of its transporter semi-trailers a factor of 6.5 to eight.
le improved productivity of articulated outfit is now said ive it comparable load space let of a drawbar combination it gives the advantage of a rer loading and overall lodern cars with air dams bebumper height and vehicles low profile tyres are partici}, susceptible to damage they are loaded but the dified versions of the Hoynor 7 semi-trailer have reduced loading angles to accommoe all types of cars.
lutocar operates 140 transters, carrying around 400,000
• s annually for domestic nufacturers such as BL, VauxI and Talbot.
he company finds it can carry ht large cars on a 15m (49.2ft) lculated combination, rather in use a slower 18m (59ft) iwbar vehicle.
)rawbar combinations are tricted to 30mph on A roads, t benefit from being allowed overhang of 1.83m (6ft) at the nt and 1.07m (3ft 6in) at the Ir.
ihe Hoynor Mk7 semi-trailer nieves its extra loading length by tilting sections of the load platforms and introducing a hanging deck for one vehicle. All standard Mk7 trailers produced since 1977 are said to be cornpatible for modification. New trailers have an expected service life of about 10 years.
The second position on the top deck is cantilevered and spring activated while all the other tilting sections are hydraulically controlled, with automatic mechanical stops.
Its 8.25-16 tyres give a low platform height and with an average car gives an overall height of about 4.75m (15ft 7in). Rubery Owen-Rockwell Neway air suspension suits the light laden application, grossing about 24 tons, to provide a soft ride. It needs less maintenance than conventional steel leaf suspension.
Unladen weight of the trailer is estimated at 7.25 tons.