Get your thinking caps or
27th November 1982
Page 10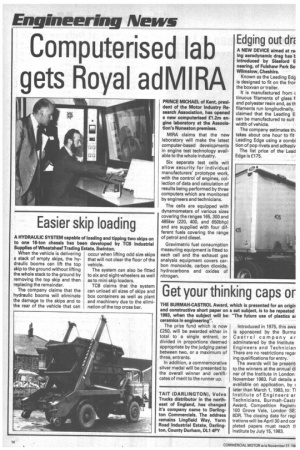 Page 10, 27th November 1982 —
Get your thinking caps or
Close
THE BURMAH-CASTROL Award, and constructive short paper on 1983, when the subject will be: ceramics in engineering".
The prize fund which is now £250, will be awarded either in total to a single entrant, or divided in proportions deemed appropriate by the judging panel between two, or a maximum of three, entrants.
In addition, a commemorative silver medal will be presented to the overall winner and certificates of merit to the runner up. which is presented for an origin a set subject, is to be repeated "The future use of plastics at Introduced in 1975, this awa is sponsored by the Burma Castrol company ar adminstered by the Institute Engineers and Technician There are no restrictions regar ing qualifications for entry.
The awards will be presentl to the winners at the annual di ner of the Institute in London November 1983. Full details a available on application, by r later than March 1,1983, to: TI Institute of Engineers ar Technicians, Burmah-Castr Award, Competition Registri100 Grove Vale, London SE: 8DR. The closing date for regi trations will be April 30 and cor pleted papers must reach ti Institute by July 15,1983.