Computerised la gets Royal adMIRA
27th November 1982
Page 10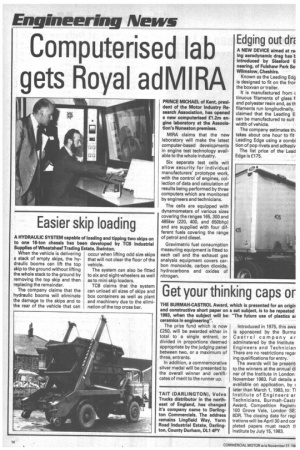 Page 10, 27th November 1982 —
Computerised la gets Royal adMIRA
Close
Keywords :
Chemistry
,
Physics
,
Matter
,
Gases
,
Chemical Elements
,
Air Pollution
,
Exhaust Gas
,
Vehicles
,
Carbon Monoxide
,
Gasoline
,
Carbon
,
Nitrogen
,
Technology / Internet
PRINCE MICHAEL of Kent, president of the Motor Industry Research Association, has opened a new computerised CI .2m engine laboratory at the Association's Nuneaton premises.
MIRA claims that the new laboratory will make the latest computer-based developments in engine test technology available to the whole industry.
Six separate test cells will allow security for individual manufacturers' prototype work, with the control of engines, collection of data and calculation of results being performed by three computers which are monitored by engineers and technicians.
The cells are equipped with dynamometers of various sizes covering the ranges 166,300 and 485kw (220, 400, and 650bhp) and are supplied with four different fuels covering the range of petrol and diesel.
Gravimetric fuel consumption measuring equipment is fitted to each cell and the exhaust gas analysis equipment covers carbon monoxide, carbon dioxide, hydrocarbons and oxides of nitrogen.