Profit is Remuneration, says Stipendiary
27th November 1936
Page 48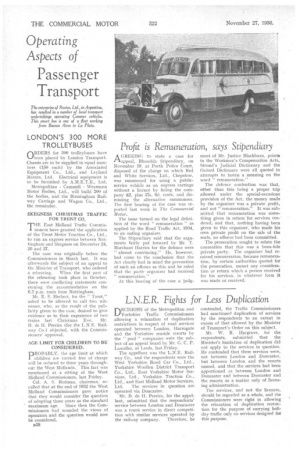 Page 48, 27th November 1936 —
Profit is Remuneration, says Stipendiary
Close
AGREEING to state a case for appeal, Rhondda Stipendiary, on November 19, at Porth Police Court, disposed of the charge on which Red and White Services, Ltd., Chepstow, was summoned for using a publicservice vehicle as an express carriage without a licence by fining the company £2, plus 37s. 6d. costs, and dismissing the alternative summonses. The first hearing of the case was reported last week in The Commercial Motor.
The issue turned on the legal definition of the word " remuneration " as applied by the Road Traffic Act, 1934, to an outing organizer.
The Stipendiary said that the arguments fairly put forward by Mr. T. Marchant Harries for the defence were " almost convincing.' • He, however, had come to the conclusion that the Act clearly had in mind the prevention of such an offence as this and he ruled that the party organizer had received " remuneration."
At this hearing of the case a judg ment of Mr. Justice Blackburn, points in the Workmen's Compensation Acts, Stroud's Judicial Dictionary and the Oxford Dictionary were all quoted in attempts to fasten a meaning on the word " remuneration."
The defence contention was that, other than this being a proper trip allowed under the special-occasions provision of the Act, the money made by the organizer was a private profit, and not "remuneration." It was submitted that remuneration was something given in return for services rendered, and that, nothing having been given to this organizer, who made his own private profit on the sale of the seats, no offence had been committed.
The prosecution sought to refute the contention that this was a bona-fide private party. The organizer had received remuneration, because remuneration, by certain authorities quoted for the prosecution, meant any consideration or return which a person received for his services, in whatever form it was made or received.