Operating Aspects of
27th November 1936
Page 48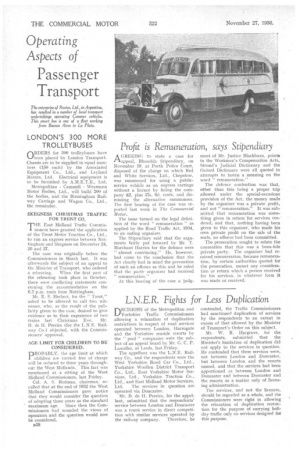 Page 48, 27th November 1936 —
Operating Aspects of
Close
Passenger Transport
The enterprise of Rootes, Ltd., in Argentina, has resulted in a number of local transport undertakings operating Corruner vehicles. This smart bus is one of a fleet working from Buenos Aires to La Plata.
LONDON'S 300 MORE TROLLEYBUSES
ORDERS for 300 trolleybuses have been placed by London Transport. Chassis are to be supplied in equal numbers (150 each) by the Associated Equipment Co., Ltd., and Leyland Motors, Ltd. Electrical equipment is to be furnished by A.M.E.T.E., Ltd.
Metropolitan Cammell Weymann Motor Bodies, Ltd., will build 200 of the bodies, and the Birmingham Railway Carriage and Wagon Co., Ltd., the remainder.
SKEGNESS CHRISTMAS TRAFFIC FOR TRENT CO, THE East Midland Traffic Commissioners have granted the application of the Trent Motor Traction Co., Ltd., to run ass express service between Nottingham and Skegness on December 24, 26 and 27.
The case was originally before the Commissioners in March last. It was afterwards the subject of an appeal to the Minister of Transport, who ordered a rehearing. When the first part of the rehearing took place in October, there were conflicting statements concerning the accommodation on the 6.3 p.m. train from Nottingham.
Mr. E. S. Herbert, for the " Trent," asked to be allowed to call two witnesses, who, as the result of the publicity given to the case, desired to give evidence as to their experience of two trains last Christmas Eve. Mr. B. de IL Pereira (for the L N.E. Railway Co.) objected, with the Commissioners' approval.
AGE LIMIT FOR CHILDREN TO BE CONSIDERED.
DROBABLY, the age limit at which
children are carried free of charge will be reduced to three years throughout the West Midlands. This fact was mentioned at a sitting of the West Midland Commissioners, last Friday.
Col. A. S. Redman, chairman, recalled that at the end of 1932 the West Midland Commissioners gave notice that they would consider the question of adopting three years as the standard maximum age. Since then the Commissioners had sounded the views of operators and the question would now be considered.
38