L.N.E.R. Fights for Less Duplication D ECISIONS of the Metropolitan and
27th November 1936
Page 48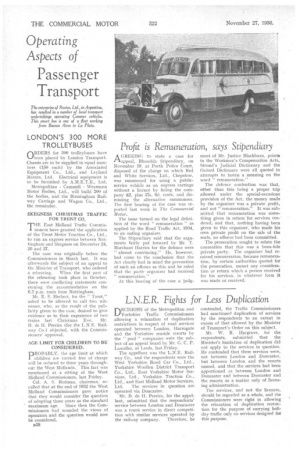 Page 48, 27th November 1936 —
L.N.E.R. Fights for Less Duplication D ECISIONS of the Metropolitan and
Close
L./Yorkshire Traffic Commissioners allowing a relaxation of duplication restrictions in respect of road services operated between London, Harrogate and the Yorkshire seaside resorts by the " pool " companies were the subject of an appeal heard by Mr. G. C. P. Lascelles, at Leeds, last Friday.
The appellant was the L.N.E. Railway Co., and the respondents were the West Yorkshire Road Car Co., Ltd., Yorkshire Woollen District Transport Co., Ltd., East Yorkshire Motor Services, Ltd., Yorkshire Traction Co., Ltd., and East Midland Motor Services, Ltd. The services in question are operated via Doncaster.
Mr. B. de H. Pereira, for the appellant, submitted that the respondents' service between London and Doncaster was a trunk service in direet competition with similar services operated by the railway company. Therefore, he contended, the Traffic Commissioners had sanctioned duplication of services by the respondents to an extent in excess of that allowed by the Minister of Transport's Order on this subject.
Mr. W. R. Hargrave, for the respondents, submitted that the Minister's limitation of duplication did not apply to the services in question. He contended that these services were, not between London and Doncaster, but between London and the resorts named, and that the services had been apportioned as between London and Doncaster and between Doncaster and the resorts as a matter only of licensing administration.
The services, and not the licences, should be regarded as a whole, and the Commissioners were right in allowing the relaxation of duplication restriction for the purpose of carrying holiday traffic only on services designed for this purpose.