This Foden 15-ton oiler, operated by H. J. Lea and
27th November 1936
Page 31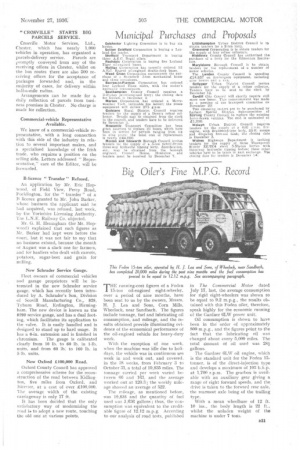 Page 31, 27th November 1936 —
This Foden 15-ton oiler, operated by H. J. Lea and
Close
Sons, of Wheelock, near Sandbach, has completed 20,000 miles during the past nine months and the fuel consumption has proved to be equal to 32.12 m.p.g. See accompanying paragraph.
THE running-cost figures of a Foden
15-ton eight-wheeler, over a period of nine months, have been sent to us by the owners, Messrs. H. J. Lea and Sons, Corn Mills, Wheelock, near Sandbach, The figures include tonnage, fuel and lubricating oil consumption, and mileage, and the results obtained provide illuminating evidence of the economical performance of the oil-engined vehicle for heavy-duty work, With the exception of one week, when the machine was idle due to holidays, the vehicle was in continuous use week in and week out, and covered, in the 38 weeks, from February 3 to October 31, a total of 10,835 miles. The tonnage carried per week varied between 66 and 163, and the average worked out at 120..3; the weekly mileage showed an-average of 522.
The mileage, as mentioned before, was 19,835 and the quantity of fuel used was :I ,636 gallons ; thus, the 'consumption was equivalent to the creditable figure of 12.12 m.p.g. According to our analysis of road tests, published in The Commercial Motor dated July 17, last, the average consumption for rigid eight-wheelers was shown to be equal to 9.2 m.p.g., the results obtained with this Foden oiler, therefore, speak highly for the economic running of the Gardner 6LW power unit.
Oil consumption is shown to have been in the' order of approximately 800 m.p.g., and the figures point to the fact that the lubricating oil waS changed about every 5,000 miles. The total amount of oil used was 281 gallons.
The Gardner °LW oil engine, which is the standard unit for the Fade)) 15tonner, is of the direct-injection type and develops a maximum of pn b.h.p. at 1,700 r.p.rn. The gearbox is available with an auxiliary gear giving a range of eight forward speeds, and the drive is taken to the forward rear axle, the rearmost axle being of the trailing type.
With a mean wheelbase of 12 ft. 10 ins., the body length is 22 ft., whilst the unladen weight of the machine is under 7 tons.