More Vehicles for Film Transport
27th November 1936
Page 30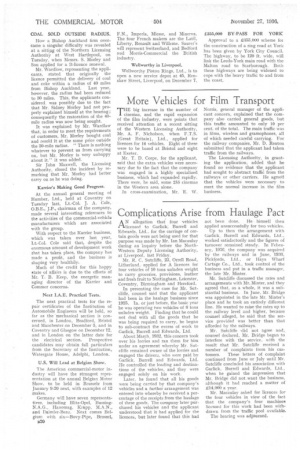 Page 30, 27th November 1936 —
More Vehicles for Film Transport
Close
'THE big increase in the number of
1 cinemas, and the rapid expansion of the film industry, were points that received attention at a recent sitting of the Western Licensing Authority, Mr. A. F. Nicholson, when F.T.S. (Great Britain), Ltd., applied for licences for 16 vehicles. Eight of these were to be based at Bristol and eight at Exeter.
Mr. T. D. Corpe, for the applicant, said that the extra vehicles were necessary due to the fact that the company was engaged in a highly specialized. business, which had expanded rapidly. There were, he said, some 255 cinemas in the Western area alone.
In cross-examination, Mr. E. W. Norris, general manager of the applicant concern, explained that the company also carried general goods, but this traffic amounted to only 10 per cent of the total. The main traffic was in films, wireless and gramophones, all of which needed careful carrying. For the railway companies, Mr. D. Renton submitted that the applicant had taken traffic from the railways.
The Licensing Authority, in granting the application, added that he found no evidence that the applicant had sought to abstract traffic from the railways or other carriers. He agreed that the vehicles were necessary to meet the normal increase in the film business.