Yellow Cab.
27th November 1923
Page 35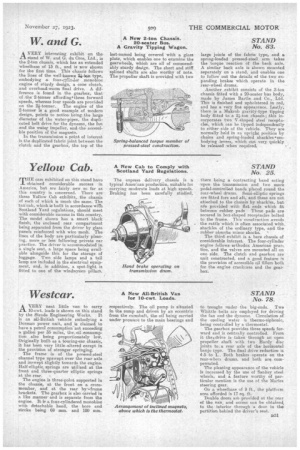 Page 35, 27th November 1923 —
Yellow Cab.
Close
A New Cab to Comply with Scotland Yard Regulations.
STAND No. 25.
THE cans exhibited on this stand have obtained considerable success in America, but are fairly new so far as this country is concerned. There are three Yellow Cab exhibits, the chassis of each of which is much the same. The 'taxicab, which is-built in accordance will Scotland Yard regulations, should meet with considerable success in this country. The model shown has a smart black finish, the enclosed rear compartment being separated from the driver by glass panels reinforced with wire mesh. The lines of the body are particularly pleasing, more or less following private car practice. The driver is accommodated in a single seat, a large space being available alongside this for the storage of luggage. Two side lamps and a tail Tamp are included in the electrical equipment, and, in addition, a spot-light is fitted to one of the windscreen pillars. The express delivery chassis is a typical Amer'can production, suitable for carrying moderate loads at high speeds. Braking has been carefully studied,
there being a contracting hand acting upon. the transmission and two more pedal-controlled bands placed round the rear-wheel drums. Semi-elliptic springs are fitted fore and aft, and these are not attached to the chassis by shackles, but az'o provided with flat ends which fit between rubber pads These pads are secured in box-shaped receptacles bolted to the frame. This construction avoids the rattle'whicE is often associated with, shackles of the ordinary type, and the rubber absorbs minor shocks. '
The third exhibit is a bare chassis of considerable interest. The four-cylinder engine follows •orthodox American practice, and the valves are mounted all on one side. The dutch and gearbox are unit constructed, and a good feature is the provision of accessible oil fillers both for the engine crankcase and the gearbox.