Wa /ker.
27th November 1923
Page 34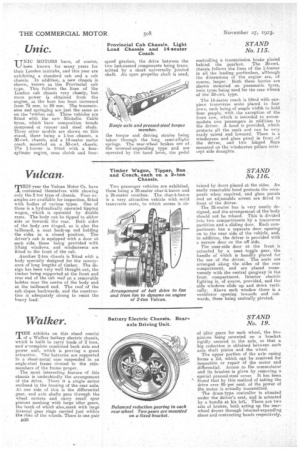 Page 34, 27th November 1923 —
Wa /ker.
Close
Battery Electric Chassis. Rearaxle Driving Unit.
STAND NO. 19.
TIlE exhibits on this stand consistof a Walker battery electric chassis, which is built to carry loads of 2 tons, and a complete combined back axle and power unit, which is proving a great attraction. The` batteries are supported in a sheet-metal case suspended in an angle-steel frame riveted to the sidemembers of the frame proper.
'The most interesting feature of this chassis is undoubtedly the arrangement of the drive. There is a single motor enclosed in the housing of the rear axle. At one side of this is the differential gear, and axle shafts pass through the wheel centres and carry small spur pinions meshing with large' idler gears, the teeth of which also,mesh with large internal gear rings carried just within the rime of the wheels. There is one pair 1:130 of idler gears for each wheel, the two pinione being mounted on a bracket rigidly secured to the axle, so that a big reduction is obtained between each axle shaft pinion and the wheel.
The upper portion of the axle casing forms a lid, which can be removed for inspection or repair of the motor and differential. Access to the commutator and its brushes-is given by removing a special pressed-steel cover. It has been
\ found that by this method of 'taking the -drive over 95 per cent, of the power of the motor is actually transmitted. The drum-type controller is situated under the driver's seat, and is actuated by a handle at his left. There are two sets of brakes, both acting on the nearwheel drums through internal-expanding shoes and contracting bands respectively,