Stevens.
27th November 1923
Page 31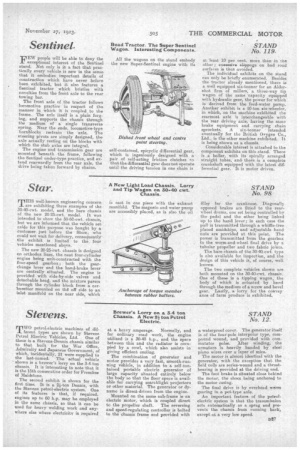 Page 31, 27th November 1923 —
Stevens.
Close
Brewer's Lorry On .a 3-4 ton Chassis. A New 2i ton Petrol Electric. STAND No. 12.
MWO petrol-electric machines of different types are shown by Stevens
Petrol Electric Vehicles, Ltd. One of these is a Stevens-Dennis chassis similar to that built for the War Office, Admiralty and Japanese aavornment, of which, incidentally, 21 were supplied to the last-named. The actual vehicle shown is a brewer's lorry on the 3-4-ton chassis. It is interesting to note that it is the 15th consecutive order for Fremlins of Maidstone.
The second exhibit is shown for the first time. It is a 21-ton Dennis, with the Stevens petrol-electric system. One of its features is that, if required, engines up to 60 h.p. may be employed in the same chassis, so that it can be used for heavy welding work and anywhere else where electricity is required
at a heavy amperage. Normally, and for ordinary road work, the engine utilized is a 30-40 hp., and the spare between this and the radiator is occupied by a cowl, which also assists in giving efficient cooling.
The combination of generator and motor provides a very fast, smooth-running vehicle, in addition to a self-contained portable electric generator of large capacity situated entirely below the body so that the floor .space is available for carrying searchlight projectors or other material. The generator or dynamo is dirent-driven from the engine.
Mounted on the same sub-frame is an electric motor, which is coupled direct to the propeller shaft. The reversing and speed-regulating controller is bolted to the chassis frame and provided with a waterproof cover. The generator itself is of the four-pole interpolar type, compound wound, and provided with coin• mutator poles. after winding, the armature is heavily banded by steel piano wires over a layer of mica. The motor is almost identical with the generator, with the exception that the field coils are series-wound and a thrustbearing is provided at the driving end. The foot brake is situated close behind the motor, the shoes being anchored to the motor casing.
The final drive is by overhead warm gearing in a pot-type axle. An important feature of the petrol. electric system is that the transmission acts automatically as a sprag and prevents the chassis from running back, except at a very low speed.