Saurer.
27th November 1923
Page 30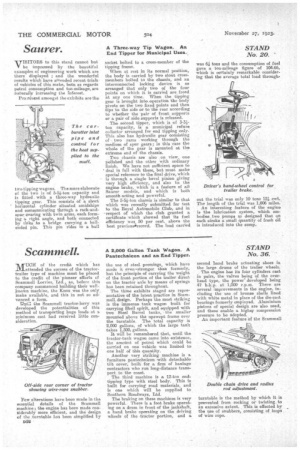 Page 30, 27th November 1923 —
Saurer.
Close
A Three-way Tip Wagon. An End Tipper for Municipal Uses.
STAND No. 20.
VISITORS to this stand cannot but be impressed by the beautiful examples of engineering work which are there displayed ; and the wonderful results which have attended recent trials• of vehicles of this make, both as regards petrol consumption and ton-mileage, are naturally increasing the Interest.
Pro. rilitent amongst the exhibits are the two. tipping wagons. The more elaborate. of the two is of 5-Si-ten capacity and is fitted with a three-way hydraulic tipping gear. This consists of a short horizontal cylinder situated amidships and communicating through a rack-andspur aearing with twin arms, each forming a right angle, and both connected by tiriks to a bridge carrying a ballended pin. This pin rides in a ball socket bolted to a cross-member of the tipping frame.
When at rest in its normal position, the body is carried by two stout crossmembers bolted to the chassis, and an interconnected locking device is so arranged that only two of the four points on which it is carried are freed at any one time. When the tipping gear is brought into operation the body pivots on the two fixed points and then tips to the side or to the rear according to whether the pair of front supports or a pair of side supports is released.
The second tipper, which is of ton capacity, is a municipal refuse collector arranged for end tipping only. This also has hydraulic gear consisting of • two rams working through the i medium of spur gears; n this case the whole of the gear is mounted at the extreme end of the chassis.
Two chassis are also on view, one polished and the other with ordinary finish. We have not sufficient space to deal in full with these, but must make special reference to the final drive, which is through a single bevel pinion giving • very high efficiency, and also to. the engine brake, which is a feature of afl Saeger models, and which is both smooth-acting and powerful.
The 5-4-ton chassis is similar to that which was recently submitted for test to the Royal Automobile Club, and in -respect of which the club granted a certificate which showed that its fuel efficiency was 50 per cent, above the hest previousArrecord. The load carried was 6i tons and the consumption of fuel gave a ton-mileage figure of 104.66, which is certainly remarkable considering that the average total load through out the trial was only 10 tons 12 cwt. The length of the trial was 1,006 miles.
An interesting feature of the engine is the lubrication system, which embodies, two pumps so designed that on each stroke a small quantity of fresh oil is introduced into the sump.