Mann.
27th November 1923
Page 26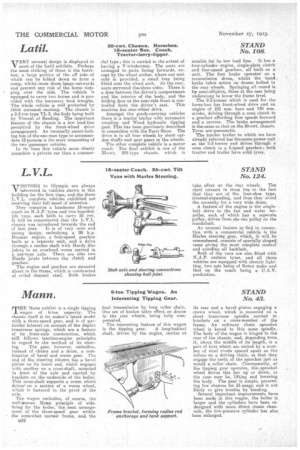 Page 26, 27th November 1923 —
Mann.
Close
6-ton Tipping Wagon. An Interesting Tipping Gear.
STAND No. 43.
THE Mann exhibit is a single tipping wagon of 6-ton capacity. The chassis itself is its maker's latest model with a three-speed gear, and is of particular interest on account of the duplex transverse springs, which are a feature of its , front-axle construction, which still follows traction-engine principles in regard to the method of its steer ing. The gear, however, embodies, instead of chains and a drum, a combination of bevel and worm gear. The end of the steering column has a bevel pinion on its lower end, which engages with another on a cross-shaft, mounted in front of the axle and carried by brackets on the underside of the boiler. This cross-shaft supports a worm which drives` on a section of a worm wheel, which is fastened to the pivot of the axle.
The wagon embodies, of course, the welbluiewn Mann principle of aidsfiring for the boiler, the neat arrangement of the three-speed gear within the somewhat narrow frame, and the
122
final transmission by long roller chain. One set of brakes takes effect on drums in the rear wheels, being fully compensated.
The interesting feature of this wagon is the tipping gear. A longitudinal shaft, driven by the engine, carries at
its rear end a bevel pinion engaging a crown wheel, which is mounted on •a short transverse spindle carried in brackets on a cross-member of the frame. An ordinary chain sprocket wheel is keyed to this same spindle. The body of the wagon is hinged to the rear of the chassis, and, depending from it, about the middle of its length, is a pair of bars which are united by a manlier of steel rivets spaced apart as the rollers on a driving chain, so that they engage the teeth of the sprocket just as would a. roller chain. Consequently, as the tipping gear operates, the:sprocket wheel drives this bar up or down, as the case may be, lifting and lowering the body. The gear-is simple, presenting few chances for-ill-usage, and is not likely to give trouble by bending.
Several important improvements have been made in this wagon, the boiler is larger and the cylinders have been redesigned with more direct steam channels, the low-pressure cylinder has also been enlarged.